Kilka razy już się przymierzałem do różnych ciepłych "wypasów" typu Brazylia itd.. i zawsze coś było " pod górkę", ale nie tym razem!!! zawzięliśmy się,jest decyzja, bilety kupione….14 Październik 2009 , lecimy na Mauritius, wyspę na Oceanie Indyjskim.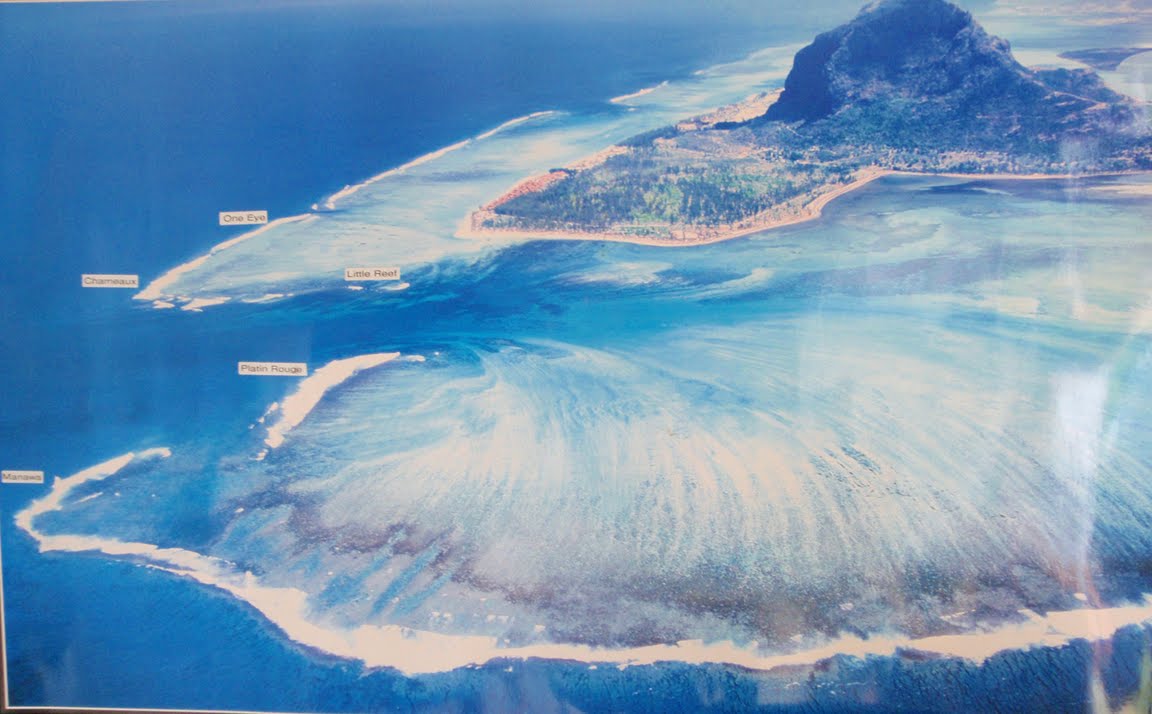 To druga półkula, gdzie ludzie chodzą do góry nogami,auta jeżdżą lewą stroną, wyże i niże rotują na opak, to samo prawo Coriolisa karze spuszczanej wodzie w wannie kręcić się w odwrotną stronę, powiadam Wam; Sodoma i Gomora:)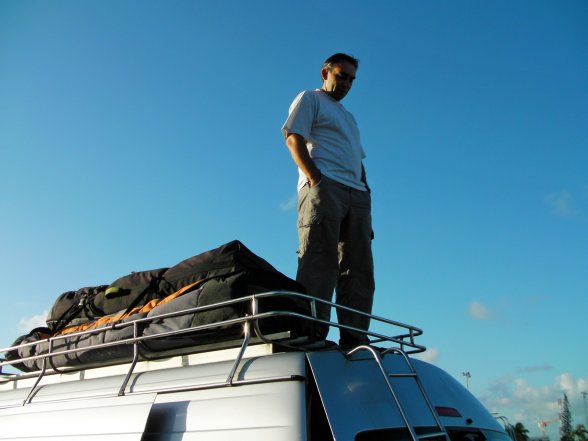 Mieszkanko na wyspie mieliśmy w wiosce [8km od głównego spotu], do dyspozycji pickup, którym wraz ze sprzętem dojeżdżaliśmy na pływanie.
Apartament z widokiem na Ocean, górę Brabant[dzięki niej występuje wzmocnienie terenowe wiatru, na spocie] i sąsiednią wysepkę….widoczek absolutnie bajka[ jak z folderu reklamowego]!!
Śniadania i kolacje przygotowywaliśmy sami [kucharz w ekipie-Piotrek, z którym gotowaliśmy krewetki, kalmary, Marlin'y i inne stwory morskie] podając je z lokalnym red wine na tarasie i rozkoszując się niesamowitym pejzażem!
Generalnie podstawą pływania w tym okresie i miejscu są latawce 7 i 9m i dobra wave'ówka, choć trafiliśmy dwa dni gdzie 5m wcale nie było za mało :) i jeden dzień na 11m.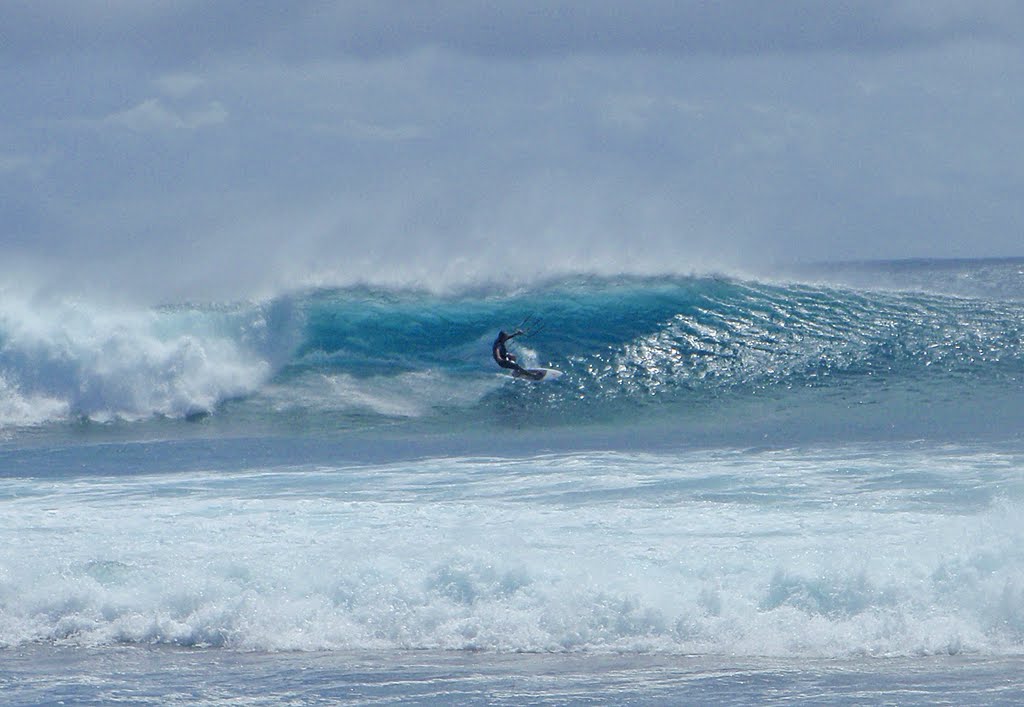 Większość październikowych warunków to wiatr w zakresie 15-25kt, fala na Manawa i One Eye 3-6m, a na Little Brake 2-3m, a wszystko to w odległości 400-700m z jednej plaży.
Oczywiście z tej samej plaży jest dostępna także "płaska woda" [ a dokładnie niezbyt ciekawy czop, jest on nieco mniejszy i bardziej regularny na kitebeach, ok 700m "z buta".
Pływałem 50/50 [w pierwszym tygodniu " na golasa" , a w drugim koszulka 1mm neoprenu], dla mnie ciekawostką był fakt używania wyraźnie mniejszych latawców [ np. 7m OZONE Sport działa z wave'ówką 5.8" perfekcyjnie od ok 17/18kt, a 9tka od ok.14/15kt]
Wrażenia z ujeżdżania 5m fali są NIESAMOWITE, nie do opisania słowami i zahaczają momentami o mistycyzm, a adrenalina wylewa się strumieniami przez uszy, tak czy inaczej nawet nie próbuję tego opisać, bo tylko ktoś kto tego zakosztował, będzie wiedział o czym mówię! I nie uzna mnie za nawiedzonego oszołoma.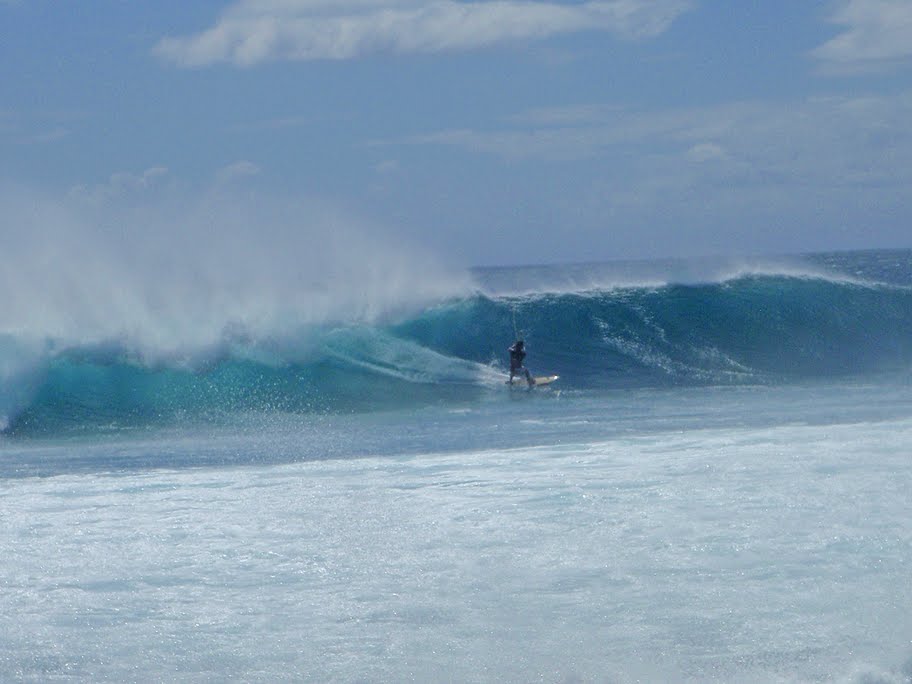 Fala jest jak drapieżne zwierzę, zaczynasz na niej jechać, a ona zmienia kolor, groźnie marszczy grzywę, pieni się, kąsa po łydkach, próbuje pożreć, wciągnąć do wnętrza,….a jeśli się jej to nie uda i wydaje się , że wyszedłeś z tego cało , …pryska na Ciebie triumfalnie deszczem piany, pokazując kto tu rządzi, kto tu jest szefem…to Ocean i jego potęga, której na chwilę nam użyczył i dał się nią delektować, ale uwaga; no risk, no fun!!!
Zaliczyłem kilka konkretnych "mielonek" na One Eye'u i powiem szczerze, że podczas mielenia nie wiesz jak się nazywasz, gdzie lewo, prawo, góra czy dół i z jakiego pochodzisz kraju ;).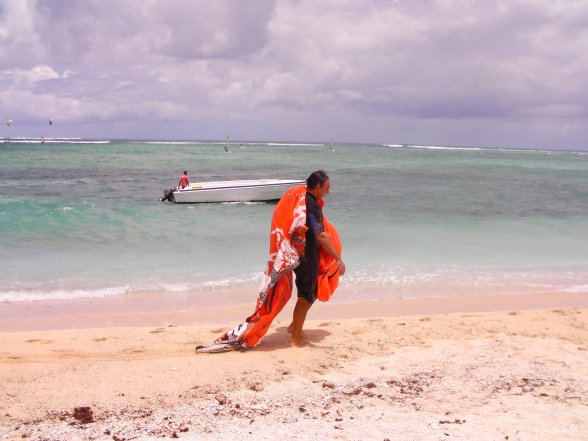 A wracając na ziemię,Mauritius to absolutnie genialne warunki na solidny wave i myślę, że jestem w stanie poświęcić kilka innych wyjazdów na korzyść jednego na Mauro.
Spoko, spoko,nie lękajcie się;) nie zwariowałem i jeszcze nie raz wybiorę się nad lokalne jeziora, Zatokę, czy sztorm na Bałtyku! choć trzeba przyznać, że przewartościowałem i zmodyfikowałem swoje pojęcie na temat dobrego wave'u, wielkości, rodzaju używanych latawców na fali, moich priorytetów i planów na przyszłość!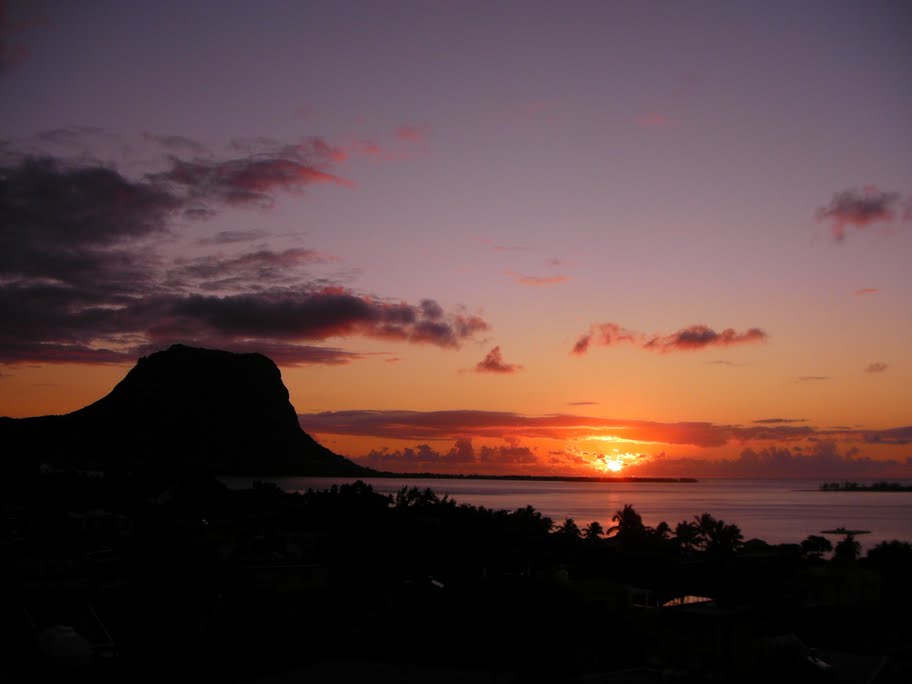 Źródło: www.kiteguru.pl