Mega turbo relacja- Brazylia 2009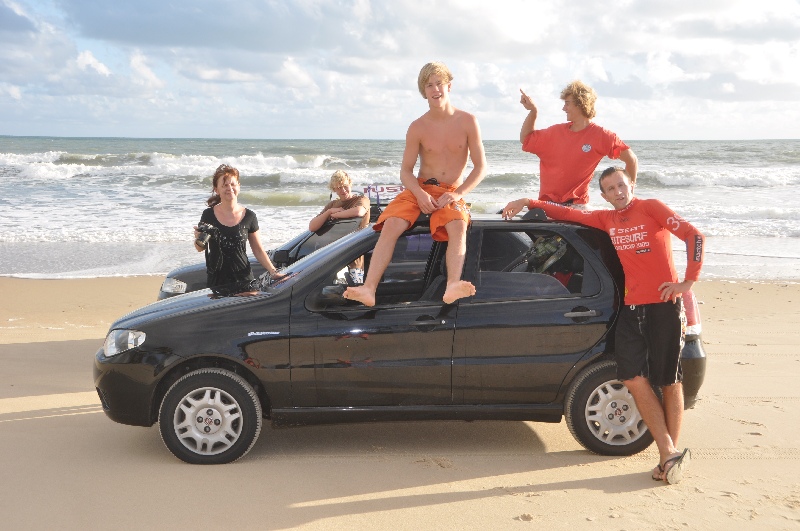 Brazylia, prosty wybór, idealne miejsce do treningu. Mega postępy. Krążyło to w naszych myślach przez cały sezon. W końcu, po uzgodnieniu terminów i załatwienia wymówek w pracy i szkole wyruszyliśmy na wymarzony wyjazd. Wyjazd, który miał radykalnie zmienić nasze umiejętności. Kwiat polskiego kitesurfingu (kiteteam) rozwinął swe skrzydła w Cumbuco- przez wielu uważane za najlepszy spot do freestylu na świecie. A wszystko za sprawą laguny o nazwie Cauipe.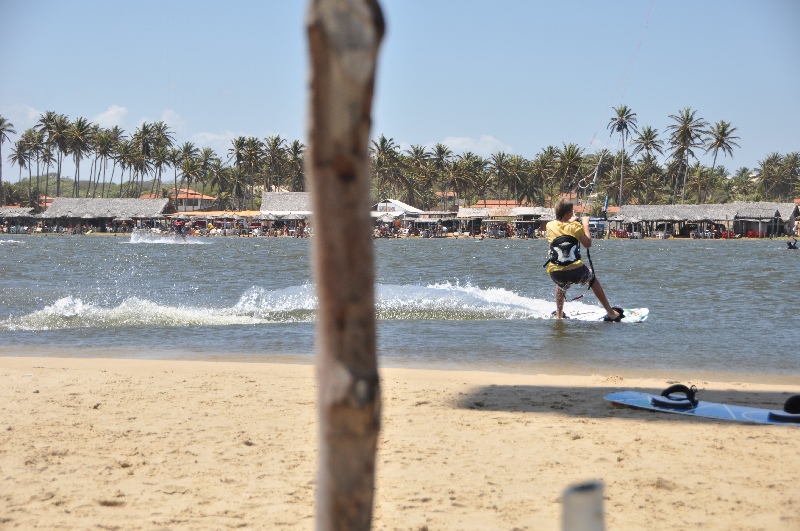 Plan był prosty- trenujemy ile się da. W tym celu pozostaliśmy przy polskim czasie i pierwszą sesję zaczynaliśmy już o 6.30 rano. Potem wracaliśmy na śniadanie do naszej posady i około południa byliśmy znów na spocie. Koncepcja Rysia, bo to on zaproponował opisany rozkład jazdy, sprawdzała się znakomicie. W ten sposób rozwijaliśmy się w tempie ekspresowym.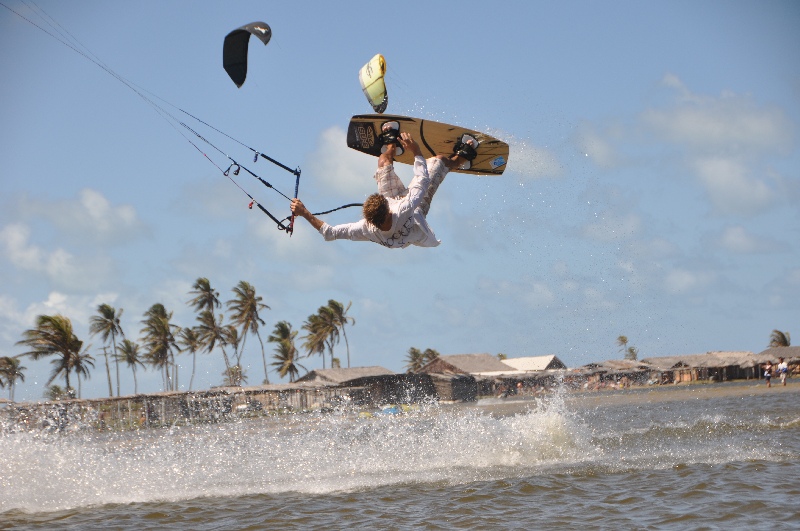 Podczas tych dwóch tygodni zdarzyło się mnóstwo rzeczy- poczynając od tego jak przejechaliśmy całą drogę ze spotu do posady z otwartym bagażnikiem, poprzez mega steki w restauracji na rogu, a kończąc na bansowaniu na wodzie w rytm ostrej techniawy. Nasze samochody miały bardzo ciężkie dwa tygodnie, w których testowaliśmy je lepiej od Top Gear. Lataliśmy nimi bokiem po wydmach i plaży, nawet czasami udało nam się oderwać cztery kółka. Najbardziej hardcorową wyprawą był przejazd do Paracuru plażą, gdzie lewarek uratował nam życie. W końcu jeden furacz nie wytrzymał i zostawił na górce cały tylny zderzak.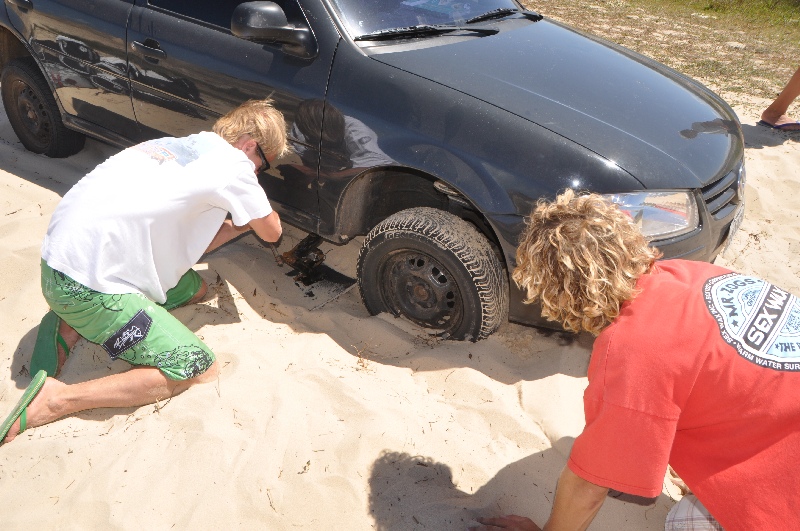 Teraz może trochę o tym co działo się na wodzie. Już od pierwszego dnia dawaliśmy z siebie wszystko. Tricki takie jak double sbend pass, low mobe, front mobe blind, mobe do wrapped, kl slim, slim blind, kl 5 oraz wiele na switch stancie stały się naszym codziennym repertuarem. Ale nie można wiecznie trenować- mieliśmy też parę bardzo śmiesznych sesji. A to jakieś transition na daszku, a to Mat na surfingu, albo skakanie nawzajem nad kitami lub sesja "pełen old school". Niestety muszę przyznać, że większość z nas zaczęła cierpieć na różnego rodzaju urazy. Marcin odpuścił przez bóle mięśni wiele dni pływania, z czego był bardzo zły. Nie lepiej było z Łukaszem- jego beznadziejny strap z jakiejś totalnie kijowej deski (która złamała się jak zapałka- na szczęście miał zapasowego Mushowa)) oderwał się i śruba rozcięła mu piętę. Mimo 4 szwów już po jednym dniu przerwy wrócił na wodę (ze specjalnym wodoodpornym opatrunkiem). Wszystkie bóle leczyliśmy różnymi sprayami do masażu, które bardzo polecamy (szczególnie ja i Łukasz). Największym terminatorem okazał się Rysiu. Nie odpuścił ani jednej sesji, a na każdej robił MEGA postępy. Drugiego weekendu okazało się, że mieszkamy obok strasznie głośnej dyskoteki- brazylijskie hity do 4 rano. Zawiodłem się także na pani od kejżo, bo zrobiła sobie urlop, a Cauipe bez kejżo to jak kisiel bez cukru- tak samo kolorowy ale smakuje raczej słabo. A lokalesi na lagunie to kolejna lipa. Pływają strasznie spięci, nic się nie śmieją, są zupełnie inni niż spoko ziomale z Paracuru. Dopiero jak ich pochlapaliśmy i porzucaliśmy piaskiem to się trochę rozruszali. Miłą niespodziankę zrobiła nam Paulina odwiedzając nas w przedostatni dzień na lagunie.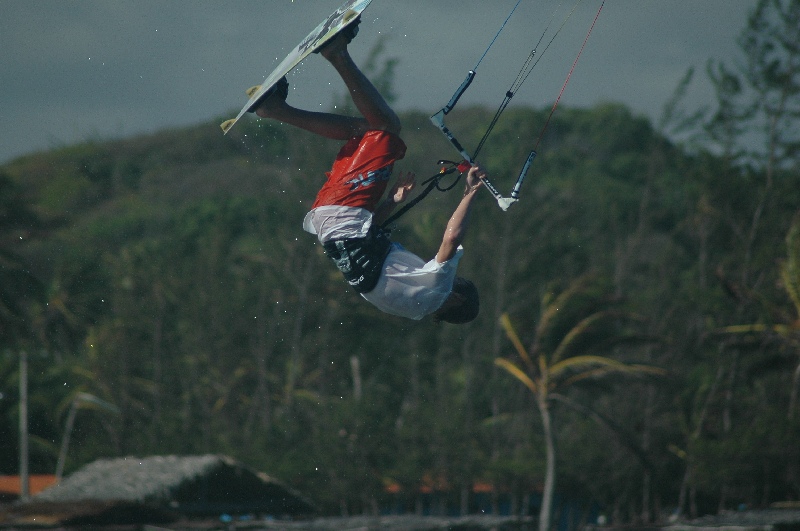 A więc, aby zakończyć jakoś tą relację napiszę, że Brazylia jest idealna. Znakomite warunki na lagunie pozwoliły na ostry trening, który przyniósł duże efekty. Najfajniejsze było to, że będąc jakieś 100m od oceanu pływaliśmy w słodkiej wodzie. Za to kompletnie nas zaskoczył, po wylądowaniu w Amsterdamie, widok naszych samochodów. Nie ma to jak wybita szyba i ukradzione rejestracje.
Z reszta obczajcie foty. txt Marek