Tak to sobie zaplanowaliśmy z Trenerem. Najpierw starty w zawodach Forda, a później może jakiś wyjazd na zagraniczne zawody . Oczywiście jeśli okaże się, że mam szanse nie narobić tam wstydu.
Praktycznie cały rok przeplatany był gonitwą za klasówkami w szkole i wiatrem umożliwiającym dokręcenie kolejnego hp . Z paszportu zaczął wyciekać tusz z pieczątek , w quiverze porwały się zamki , na nogach dziury i plastry. Nie wspomnę o dłoniach, zrobiły się jakieś takie wielkie i ciężkie. Tak było do końca sierpnia . Ale warto było . Udało mi się opanować kilka nowych trików.
Znalazło to też uznanie u sędziów. I tak uzyskałem ekstra wynik w zawodach Forda. Chociaż trzeba przyznać, że jego powtórka będzie mało prawdopodobna, bo chłopaki z okolicy cisną i to mocno .
Zawody KPWT odbywały się przez cały rok i to zupełnie blisko. Francja, Niemcy, Portugalia. Nie pojechałem tam uznając, że jeszcze nie mój czas .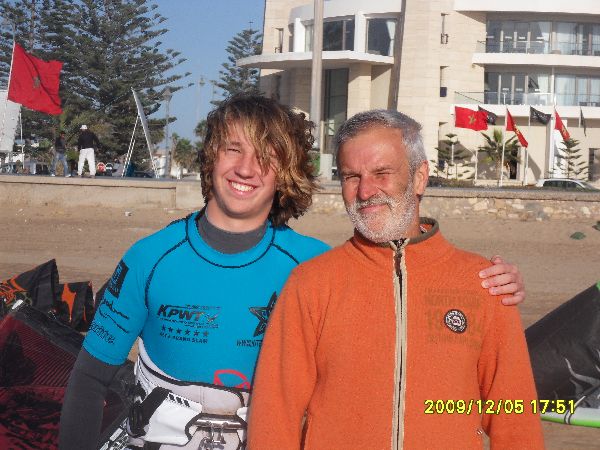 Na wyjazd do Essaouiry zdecydowaliśmy się we wrześniu głównie z powodu terminu . W tym czasie nie miałem klasówek w szkole, a to niestety już klasa maturalna .
Essaouira to miejscowość około 1000 km od Tarify na zachodnim atlantyckim wybrzeżu Maroka .
Zaplanowaliśmy wylot przez Paryż do Marakeszu tak aby pozostawić sobie 6 dni na trening. Potem starty w zawodach i jeśli wcześnie odpadnę w eliminacjach to wcześniej wrócimy.
Bilety do Paryża z bagażem sportowym udało się kupić po 800 zł, a do Marakeszu za 150 euro. Powrotne były tańsze. Do Paryża za 59 euro, do Warszawy za 600 zł . Z Marakeszu na lotnisku pożyczyliśmy samochód Renault Kangoo za 500 euro za 2 tygodnie.
Do Essaouiry jest z Marakeszu 180 km dobrą drogą, 3 godz jazdy. Taksówka kosztuje około 80euro.
Prognoza wiatrowa przewidywała wiatr od następnego dnia , tak więc zdecydowaliśmy się pojechać na wycieczkę w góry Atlasu Wysokiego. Dolina Uriki warta jest przejażdżki około 80 km.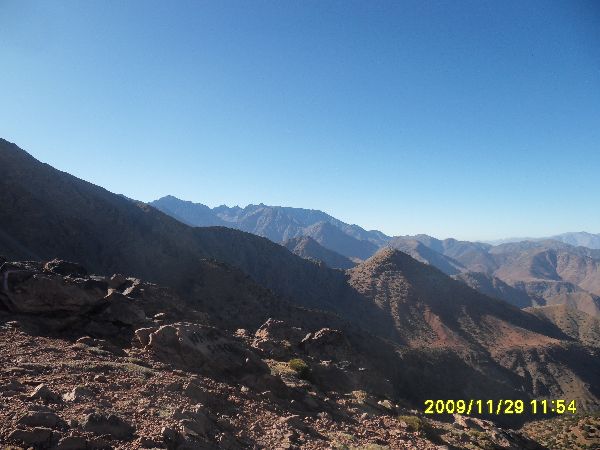 Piękne, niespotykane widoki, pełna egzotyka mieszkańców gór, ich domów, roślinności zrobiła na nas duże pozytywne wrażenie. Przyjechaliśmy na kite'a, a trafiliśmy na ośrodek narciarski z wyciągami , hotelami w środku gór na wysokości ponad 2000m. Noc spędziliśmy w Marakeszu .
Niezły hotel, których jest tutaj dużo, kosztuje około 30 euro za 2 osoby ze śniadaniem.
Marakesz by night warto zobaczyć. To miejsce z dużą ilością turystów błąkających się do póżnych godzin nocnych. Dzielnice bogatych to domy, pałace z potężnymi zielonymi ogrodami, przepyszne hotele i budynki administracji rządowej oraz tanie domki i mieszkania przy bazarach. Konie, muły wielbłądy, psy i koty. I ludzie biali i czarni, bogaci i biedni. Wszystko w jednym mieście pełnym taksówek, rowerów, autobusów, ciżby zwykłych ludzi i turystów. A to wszystko w gąszczu palm na tle gór Atlasu Wysokiego.
Rano pognaliśmy do Essaouiry. Byłem tu kilka lat wcześniej. Jedyna droga przerobiona w dużej części na 2 pasmową o doskonałej nawierzchni przebiega przez zróżnicowany krajobraz małych wsi i miasteczek. Dość szybko maleje ilość zielonej roślinności by w pobliżu oceanu zamienić się w krainę nieprawdopodobnej ilości kamieni wapiennych, wśród których tylko kozy są w stanie wynależć żdżbła jakiegoś zielska. Domki, chatki są zbudowane oczywiście z kamieni wapiennych uszczelnionych zaprawą wapienną. Ziemi na której mogą rosnąć pomidory czy kapusta to ja tu nie widziałem. Ale w mieście Essaouira hotele stoją na zielonych trawnikach , a kwiaty pną się po murach starego miasta .
Wybraliśmy hotel polecony przez organizatorów zawodów . Przy samej plaży z widokiem na ocean . Oczywiście z 50 % zniżką przez booking.com . Było i tak drogo , ale pełny wypas. Duży pokój z garderobą. Plazma itp. . Graty zostawiliśmy w przechowalni bagażu i na wodę .
Essuaira to portowe stare duże miasto leżące nad dużą zatoką odgrodzoną deptakiem od ulicy .
Piaszczysta plaża o szerokości 100 m zalewana jest w połowie wodą w porze przypływu . Na południowym jej końcu wpływa mała rzeczka , na której rozlewisku głębokim do kolana może trenować freestyle 4 zawodników . Pośrodku zatoki znajduje się w odległości około 2 km od brzegu skalista wyspa .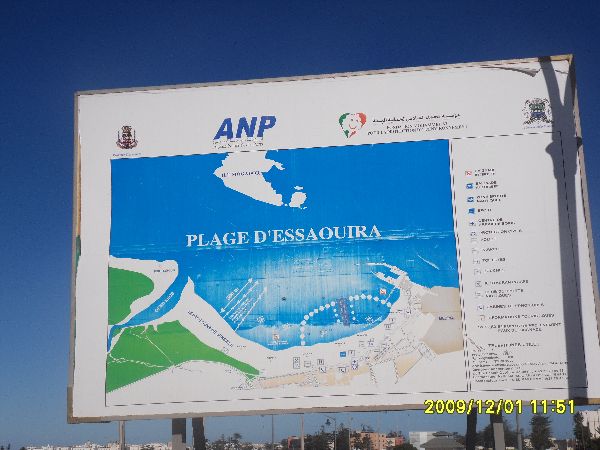 Przy tradycyjnym północnym wietrze tworzą się fale o wys około 2 do 3 m w zależności od fazy pływu. Fale są powolne , oceaniczne , silne i aktywne . Woda około 50 m od brzegu płytka .
Temperatura wody jak w Bałtyku. Przyjemnie chłodna . Ale nie zimna . Wiatr niestety dość szarpiący . Trudny do pływania, ale da się ogarnąć . Temperatura powietrza ponad 20 stopni , słońce. Wieczorem chłodno. Sweter i długie spodnie .
W takich warunkach rozpoczęliśmy treningi . Trzy miesięczna przerwa w pływaniu niestety dała znać o sobie. Wykonywanie trików szło mi bardzo opornie . Nawet te najprostsze były wyzwaniem. I ten cholerny nierówny wiatr z falą . Pięć dni treningu minęły , a ja nawet nie pomyślałem o tym , żeby próbować podwójne hp. Zaczęli zjeżdżać zawodnicy. Richmann, Tyshkievicz, Schizthoffer, Tuck, Bakker, Auriol, Tiger, Monteiro i inni. Widać ,że się znają . Każdy z nich liczy na pudło .
Co ja tutaj robię. Tata z Japą i Błążejem mnie pocieszają . Nie wiem czy to wystarczy .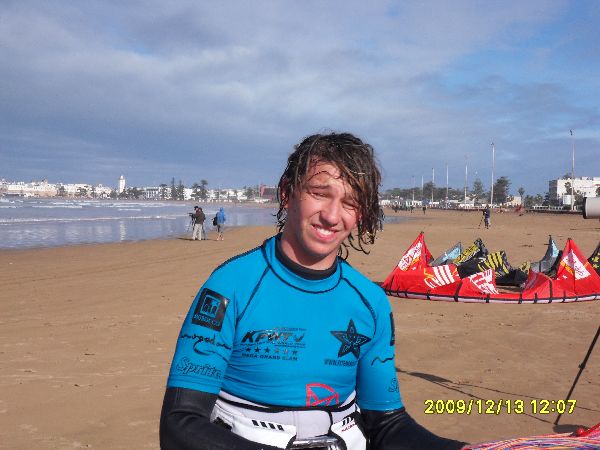 1 dzień zawodów. Wszystko się ślamazarzy . Prognozy nie są najlepsze . Wujek Stempel już by kończył pierwszą eliminację , a tu nie wiadomo kiedy będzie pierwszy hit. W końcu losowanie i zaczyna się. Zapisałem się do startu we wszystkich konkurencjach . Zaczynamy od seniorów . Freestyle. Na 10 m2 .
Niestety nie wylosowałem dobrze . W pierwszym swoim hitcie zmierzę się z Tackiem . Przyjechał pierwszy raz z Belgii do Dakhli i wygrał . Nowa młoda gwiazda . Chce i tutaj wygrać. To widać.
Kgb, bj 3, front mobe, s-bend pass, 313 5, klasyczne hp, mobe, nis, slim chance, kl 3, kl nis, front mobe blind . Robiłem po kolei . Ale czy na pewno wszystko .Na pewno nic nie przymoczyłem.
To wiem. Ale co widzieli sędziowie. Widzieli. Przechodzę dalej. Tack odpada. Sensacja.
Następny jest Schizthoffer. I na tym się skończyło. Adrenalina ze mnie wyciekła. Może i bym go pobił na pięści, ale nie w tym hitcie. Pojechałem dobrze. Bez upadków, ale był lepszy.
Następne cztery dni to horror. Nie ma wiatru. Chłopaki snują się i marnieją z każdą godziną. W kółko gatki o nadchodzącym wietrze . Ktoś go widział na windguru , inny na maroccoblebleble. Ale za to można pogadać z najlepszymi o kitach deskach , zawodach itp. Pływa się na wszystkim. C shapy, hybrydy , deski markowe i bez nazw. Nie widziałem bow'a .
Wreszcie jest trochę wiatru, tym razem od południa. Wolę ten kierunek. Jest 13 węzłów. Puszczają race. Mam deskę race Northa z zeszłego roku . Pompujemy 14 Torcha . Przedłużamy linki o 4 m.
Start. To nie lata. Wszystko za szybko. Zmiana linek, gonię Błażeja on wie na czym to polega.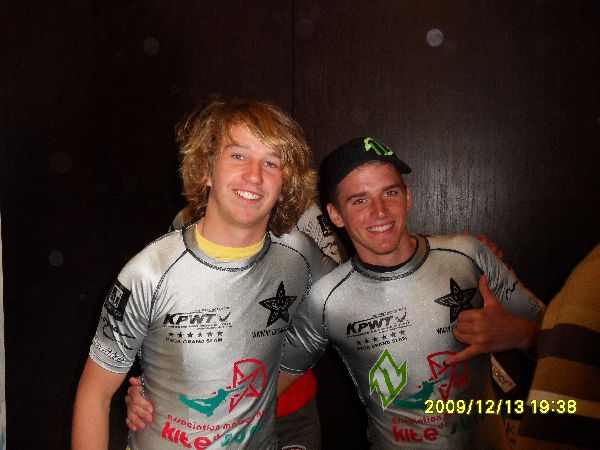 Czołówka odjechała. Sroka z Richmannem mają deski potwory, 4 stateczniki jak od ws, w pokrowcach wnoszą do wody. Kity Crosbow 16 m2 z jakiegoś dziwnego, błyszczącego materiału .
Oni nie płyną, lecą. Pierwsza boja 3 km w morzu. Nawet nie wiem gdzie jest . Fala , wały wody o wysokości około 4 metrów . Błażej przede mną , ale znacznie wyżej . Ja w końcu przyzwyczajam się do tego tapczanu , ale czas na halsówkę i zwroty . Nie czuję nóg . Łapię górę . Na halsówce wyprzedzam nie wiem kogo . Błążej już płynie w dół, a ja ciągle nie mogę opłynąć pierwszej boi.
W końcu jest moja. Teraz prosto w dół i do domu, ale to cholerstwo w dół nie płynie. Lata na boki . Mam dziurę w nodze. Krew leci . Jezu czy tu są rekiny . Marokan był za mną 2 kampingi ,a teraz zbliża się w szaleńczym tempie . Wyprzedza na drugiej boi . Zwrot i halsówka na metę. Trzeba robić zwroty w przyboju . Decyduję się wypłynąć dalej w morze i zwroty robić dalej od brzegu. Udaje się. Kilku gości i Marokan walczą w przyboju szukając desek , dopływam do mety. Jestem 4. Nie mam na nic siły . Teraz dziewczyny, finały mężczyzn, mam 3 godziny do hitów juniorów . Idę spać.
Znowu losowanie i znowu kicha . Nie wylosowałem pustego hitu , ani jakiegoś małolata . Najpierw Bakker. Jego filmy są w internecie. Mieszka na Tarifie. Gadałem z nim . Po szkole chodzi pływać. Przez boisko szkolne prosto na plażę. Dotychczasowy faworyt .Na wodzie widać , że umie pływać . Nie muli. I znowu to samo . Kgb, bj 3, front mobe, s-bend pass, 313 5, klasyczne hp, mobe, nis, slim chance, kl 3, kl nis, front mobe blind .Wszystko wyszło .Ok . Teraz czeka na mnie Tack .W Dakhli objechał dwa raz Richmanna . Będzie ciężko .Chce mnie dopaść już na plaży . Wiatru jest coraz mniej. Spływamy kilkaset metrów od wieży sędziowskiej . Wierzę, że wygrałem . Tack utopił się kilka razy. Mnie wszystko wyszło . Ale już czułem zmęczenie . Jednak był lepszy. Nie mam siły.
Nawet nie miałem żalu. Następny hit z jakimś kolesiem. Nie wiem z kim. Wyszedłem już wyluzowany. Nie miał szans . Żadnych. Nawet nie poszedłem zapytać o wynik. Szybko do łóżka.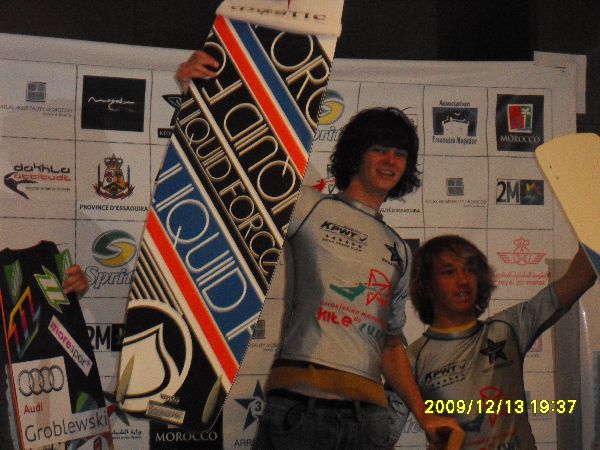 Za dwie godziny rozdanie nagród . Stoję na podium . Jestem 3 w juniorach, 4 w race i 9 w freestyle seniorów. Wiem, że mogłem to wygrać. Trzeba było tylko popływać raz w miesiącu przez tydzień. Żeby nie zapomnieć. Wybrałem szkołę.
Wracaliśmy do domu od razu po rozdaniu nagród .W jakieś wsi po drodze dają tadżiny , duszone mięso z warzywami. Czarna noc. Były ekstra , zjedzone piorunem. Lokalesów przybywa w ekspresowym tempie. Skąd oni si,ę biorą. Chyba nas nie zjedzą. Rano samolot do Paryża , wieczorem do Warszawy. Wracamy z tarczą. Kilka pudeł na Fordzie i teraz pudło na KPWT . Jestem zadowolony. Zakończyłem karierę juniora .
Uwagi własne seniora do juniorów . Nie będzie Wam łatwo wygrać KPWT ,ale jesteście w stanie to zrobić. Teraz przed maturą , bo później kicha . 8 minut i 10-12 hp z czystym lądowaniem i coś ze starej szkoły. I tego Wam życzy z okazji Świąt Bożego Narodzenia i Nowego Roku,
Tomek Dakti Daktera