26 paĽdziernika 2009 ruszyłem na trening zimowy do Brazylii. Poleciałem z moj± ukochan± Żon± - Krysi± do Marchewy, do Surf-village w miejscowo¶ci Guajiru 130km na północ od Fortalezy. Po tygodniu w Guajiru wystartowałem w Cumbuco w Pucharze ¦wiata. PóĽniej wrócili¶my do Guajiru i kolejne 10 tygodni wygl±dało tak samo, trochę jak w filmie "Dzień ¦wistaka".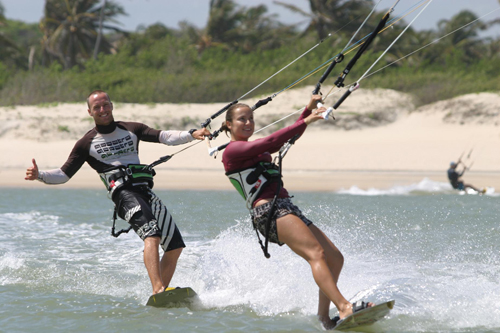 Codziennie wstawałem koło 8 rano i zaczynałem rozgrzewkę- spokojne bieganie lub pływanie w basenie. O 9tej ¶niadanie, póĽniej chwila w internecie. Koło 10.30- 11 ruszali¶my pływać- tu była odmiana- czasem na morzu w zależno¶ci od pływów- przy wysokim stanie wody pływanie na falach, przy niskim stanie prawie płaska woda.
Czasem jechali¶my 7 kilometrów pod wiatr na nasz± mał± lagunę z idealnie płask± wod±. Pływanie starałem sobie dzielić na dwie godzinne sesje, wychodziło różnie. Ale codziennie mogłem pływać, nawet jak miałem lekcje i Pro Campy zawsze miałem też czas, żeby trenować.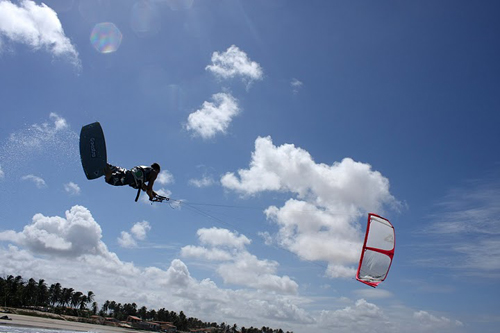 Po pływaniu wracali¶my do pousady. Na kolację często sami przygotowali¶my jedzenie- krewetki, langusty, ryba z grilla, spaghetti, kurczak... Albo chodzili¶my do restauracji - s± 2 w Guajiru- w RedeBeach lub Juju Bar- obie smaczne choć nie najtańsze. Większy wybór knajp jest w wiosce obok- Fleicheiras 5km od Guajiru. Ciekawymi miejscami s± Pastele i Pizzeria Nono - tu serwuj± pizze z czekolad± lub z bananami i cynamonem - obie s± bardzo dobre. Wieczory spędzali¶my na hamakach ogl±daj±c filmy, czytaj±c lub rozmawiaj±c.
W czasie pobytu pojawiło się sporo osób w tym kilku młodych zawodników - trenował Paweł Kiczkan - może nieĽle zaskoczyć w tym sezonie, Miłosz Laska- wave'owiec i freestyler wracaj±cy do formy po rocznej przerwie, Denis Zurik- jedenastolatek który pływa ¶licznie, trenował raily blined i raily wrapped, je¶li będzie trenował nadal z takim zapałem, to za jakie¶ 2,3 lata będzie groĽny.Pod koniec wyjazdu uczyłem pływać na kajcie siedmio letniego Igora Stokowskiego - chłopak pływa w obie strony, i też boję się pomy¶leć co może robić na kajcie za kilka lat.
Surf-Village nie jest miejscem "imprezowym", ale imprezy też można znaleĽć w okolicy. Każdy kto bardziej ceni pływanie niż balowanie będzie tym miejscem zachwycony.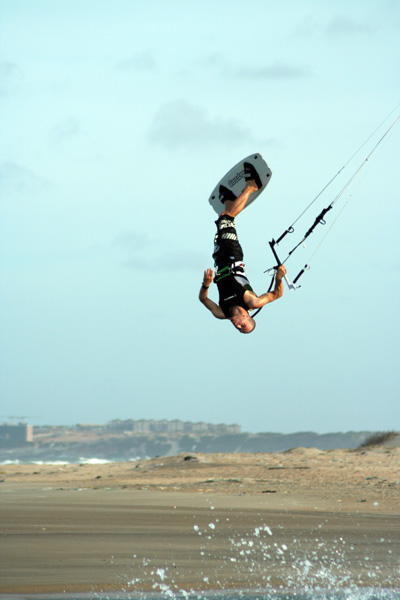 W Brazylii spędziłem 3 miesi±ce- pływałem na Jekyll'ach 2010 czyli nowych kite'ach Gaastry. Jekyll jest najwszechstronniejszym latawcem na jakim pływałem. Mogę go używać do Freestyle'u, Wave'u, Racingu i Freeride'u. Kite ma kilka możliwo¶ci zmiany ustawień. Na barze linki steruj±ce można pu¶cić na zewn±trz i mamy dłuższy bar- używam tego ustawienia do Wave'u i w czasie Race'u- latawiec szybciej reaguje. Do Freestyle'u ustawiam linki steruj±ce do wewn±trz- latawiec robi się stabilniejszy- trochę mniej podatny na ruchy barem co jest istotne przy przekładaniu baru za plecami w czasie handlepassów. Na latawcu mamy po dwa lub trzy punkty zaczepienia linek steruj±cych. Im bardziej z tyłu tym szybszy latawiec, bardziej bezpo¶rednie uczucie kontroli latawca i mniejsza siła na barze. Im bardziej z przodu ustawimy linki steruj±ce tym wolniejszy kite i większa siła na barze. Do Wave'u i Race'u ustawiam linki z tyłu, do Freestyle'u ustawiam tylne linki w ¶rodkowym ustawieniu by trochę zwolnić latawiec. Linki maj± 24 metrów- s± podzielone na 21 metrowe i trzymetrowe przedłużki. Przedłużki można zdj±ć by latawiec był jeszcze szybszy, ale nie musiałem tego stosować. Może jeszcze potestuję takie rozwi±zanie w czasie jazdy na falach i dam znać jakie przynosi rezultaty.
Jekyll łatwo wstaje z wody i bardzo dobrze idzie pod wiatr co jest dla mnie bardzo istotne w czasie Race'u i Freestyle'u. Cieszę się, że mam tak uniwersalny latawiec. Je¶li kto¶ chciałby go spróbować to zapraszam do EASY Kite Center - zawsze w tej bazie lub w czasie wspólnych wyjazdów będzie można przetestować Jekyll'a.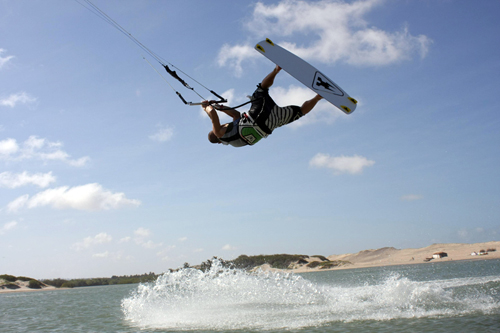 W czasie tego pobytu pracowałem nad różnymi manewrami- sporo na switchu- czyli uczyłem się manewrów na drugim halsie. Chcę w nadchodz±cym sezonie mieć więcej manewrów do pokazania na zawodach. Jak zawsze w czasie treningu niektóre manewry dosyć łatwo przyswajałem, a niektóre pomimo wielu dni prób i wywrotek nadal s± niedopracowane i bolesne :) Wypad do Brazylii był bardzo owocny :)
Po powrocie do Polski 20 stycznia przywitała mnie sroga zima, nie nacieszyłem się ni± zbyt mocno, 5 lutego ruszyłem na 9 dni do Egiptu, poleciałem tam z kursantami Kasi± i Wojtkiem. Trafili¶my do Zimasa do bazy RedSeaZone w El Gounie. Na miejscu spotkali¶my dobr± ekipę- ¦wistaka- Filipa Porzucka , Mikołaja Dałkowskiego i czternastoletniego Wojtka Issela, kolejny młody talent. Niestety wiało tylko dwa pierwsze dni, także na kajtach nie poszaleli¶my. Ale, i to jest plus El Gouny - ruszyli¶my bowiem na trening wakeboardowy. Pływali¶my za Masterraftem X2 - ¶wietn± motorówk±, więc je¶li co¶ nie wychodziło to mogli¶my winić tylko siebie. Nagranie z tego treningu wkrótce pokażę, próby raily i backloopa bol± mnie do dzi¶ :)
Wróciłem z Egiptu 14 lutego i od razu wpadłem do znajomego rehabilitanta Bartka Szpota do kliniki "NaNowo" żeby mnie podleczył przed kolejnym wyjazdem.
16 lutego wyleciałem do RPA testować sprzęt Gaastry na 2011 rok :) relacja z tego wyjazdu już niedługo.
Gor±co Pozdrawiam
Łukasz Ceran
Gaastra i Diverse Extreme Team
CapeTown 18.02.2010
Więcej zdjęć na stronach easy-surfshop.pl