Miło jest nam zaprezentować wywiad, który udało się przeprowadzić z Susi Mai podczas jej wizyty na Boracay. Sprawa wyszła całkiem przypadkowo. Okazało się, że pobyt ekipy Kitecenter.pl na wyspie idealnie zgrał się z pobytem Susi. Szybka wymiana info na skype i Żaba przyłapał obiektywem niewiastę na wodzie, a póĽniej umówił się na krótkie spotkanie i wywiadzik.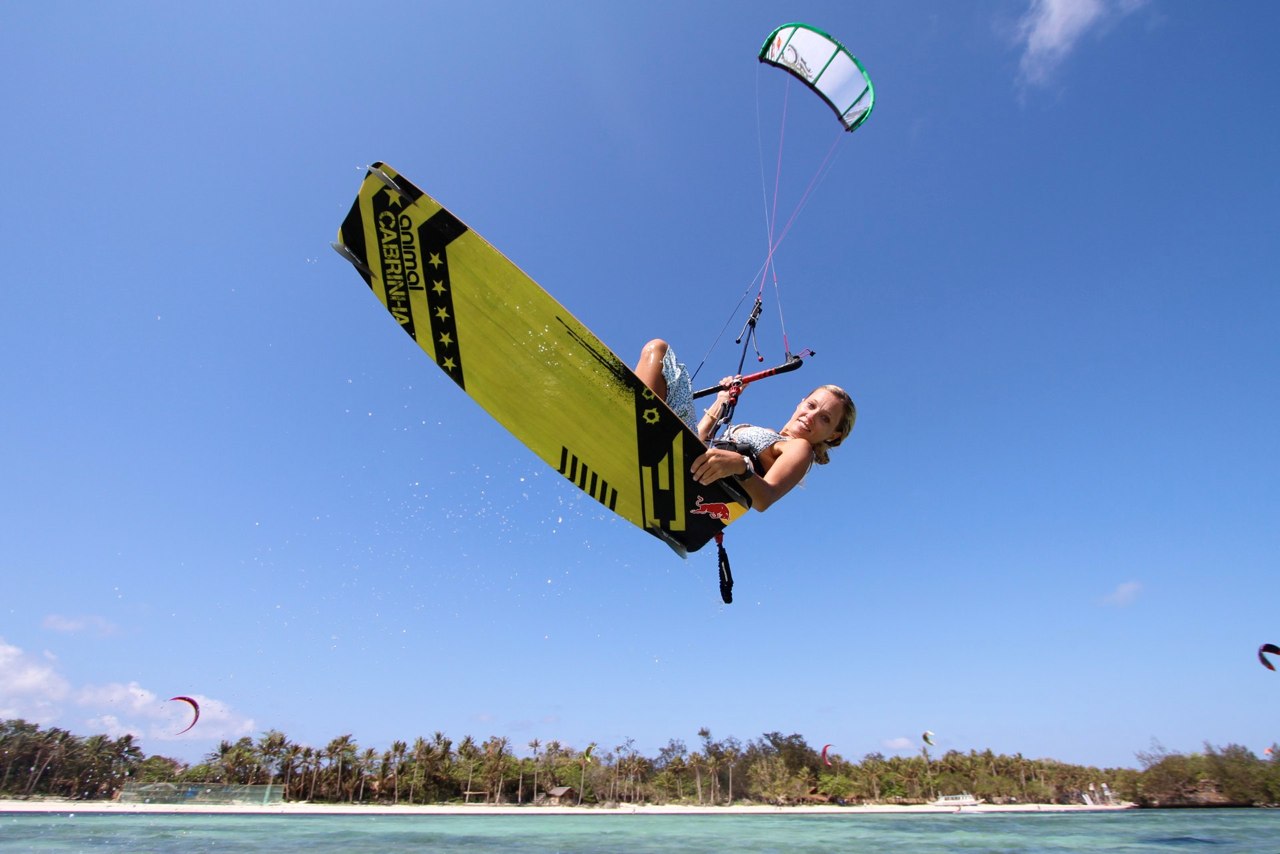 KP: Kiedy i gdzie zaczęła się Twoja przygoda z kitesurfingiem?
SM: Moja przygoda z kitem zaczęła się, gdy mój przyjaciel Geal otworzył szkołę kitesurfingu na plaży i udzielił mojemu najlepszemu przyjacielowi i mnie kilku darmowych lekcji. Pamiętam jedn± tak± lekcję, po której znienawidziłam ten sport. Rok póĽniej znowu poczułam motywację i postanowiłam dać kite'owi jeszcze jedn± szansę. Było to wiosn± 2002 r., lecz byłam wtedy jeszcze w liceum i nie miałam więcej czasu na treningi niż raz lub dwa razy w tygodniu. W dalszym ci±gu tego nie czułam, ale gdy w mie¶cie, w czerwcu, został zorganizowany event PKRA, zobaczyłam o co w tym tak naprawdę chodzi. Był to także pierwszy raz, kiedy zobaczyłam rywalizuj±ce ze sob± dziewczyny i w tym momencie zdecydowałam, że naprawdę chcę się uczyć latać. Wtedy naturalnie nie my¶lałam o zawodach, ani niczym w tym rodzaju, chciałam tylko być w stanie polecieć, poczuć wiatr we włosach i po prostu dobrze się bawić.
KP: Gdzie jest Twój ulubiony spot?
SM: WOW, to jest pytanie z serii "najtrudniejsze"... wydaje mi się, że jest to kilka powi±zanych ze sob± miejsc. Dominikana jest oczywi¶cie jednym z moich ulubionych, lecz kocham także Maui, Australię i przyznam, że bardzo podobało mi się latanie w Japonii.
KP: Co nam możesz powiedzieć o życiu na Dominikanie?
SM: Życie na Dominikanie jest wła¶ciwie bardzo podobne do życia na Boracay. Jest ciepło i tropikalnie, każdy dzień rozpoczynam treningiem "surf session" na lokalnym wave spocie - Encuentro. PóĽniej jem ¶niadanie, a po południu mam trening "kite session". Moje dzieciństwo na wyspie było beztroskie, dużo czasu spędzałam na plaży i oczywi¶cie na chillowaniu ze znajomymi. Jest to miejsce, w którym można się doskonale zrelaksować, lecz zawsze lubiłam wracać do domu.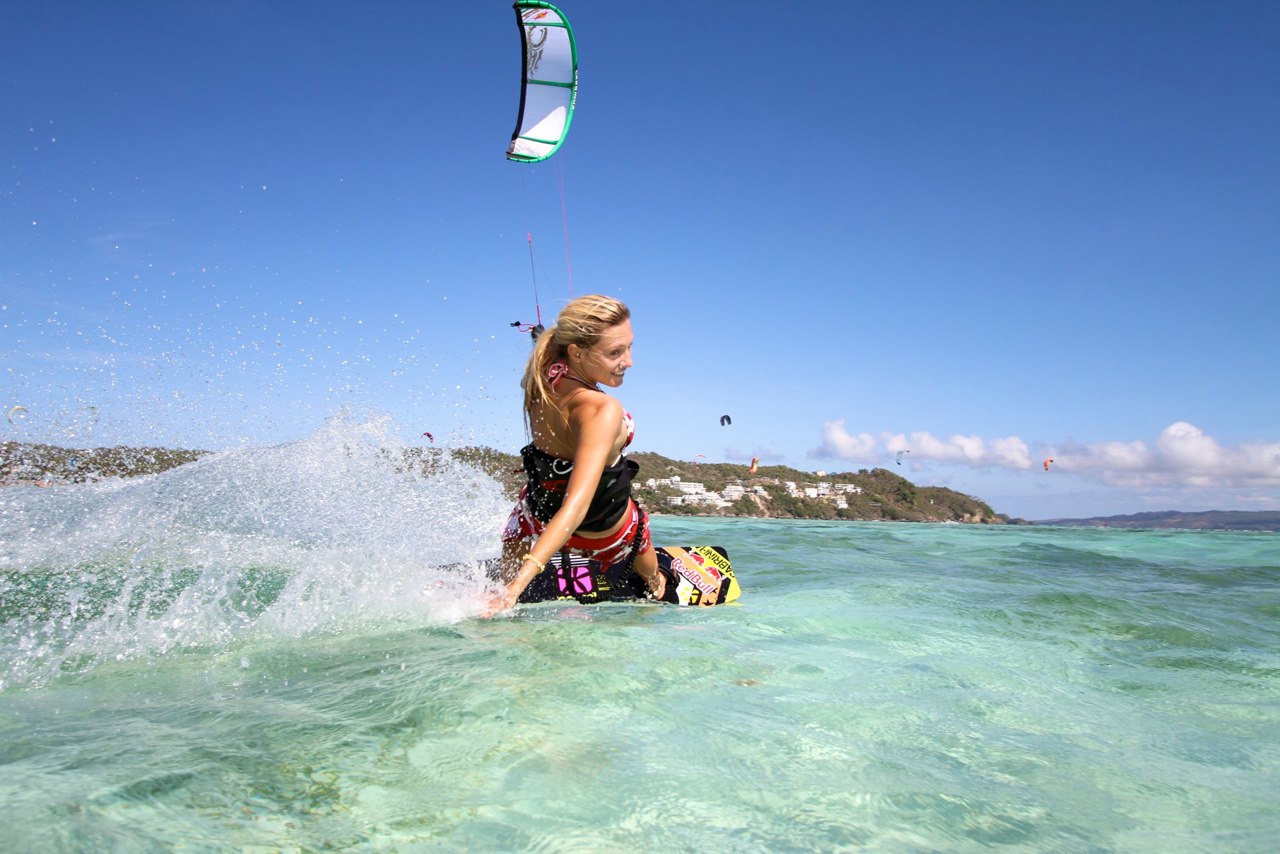 KP: Jakie s± Twoje plany na 2010 r. ?
SM: W tym sezonie nie zamierzam po¶więcić tak wiele czasu na rywalizowanie, jak na pełnowymiarow± pracę przy jednomiesięcznym projekcie dla strony www.cabrin​hakites.co​m. Tę pracę kończymy w połowie marca i wyprowadzamy się st±d, więc nie mam w tej chwili za wiele czasu na nic innego. Będę brała udział w Tripple S Invitational w czerwcu w Cape Hatteras w Karolinie Północnej i być może PKRA na Dominikanie, jeżeli event ten będzie organizowany. Jednak po siedmiu latach uczestniczenia w tym my¶lę, że nadszedł czas, aby zaj±ć się czym¶ innym.
KP: Co s±dzisz o polskich zawodnikach, o ich poziomie? Może przyjaĽnisz sie z kim¶?
SM: Nie znam zbyt wielu polskich zawodników, my¶lę że w tej chwili macie więcej lataj±cych dziewczyn niż chłopaków, haha, my¶lę, że jest to rzadko spotykane. Dużym respektem darzę Karolinę i Asię, s± one niesamowitymi zawodniczkami. Asia stała się jedn± z moich najlepszych polskich przyjaciółek, lecz trochę czasu spędzałam także z Jankiem Koryckim.
KP: Możesz nam co¶ powiedzieć o Twoim sprzęcie na nadchodz±cy sezon?
SM: Hmmm... to jest ¶ci¶le tajne :) sprzęt jest dobry, zwłaszcza dla dziewczyn, ale nię mogę za wiele zdradzić, bo popadnę w tarapaty.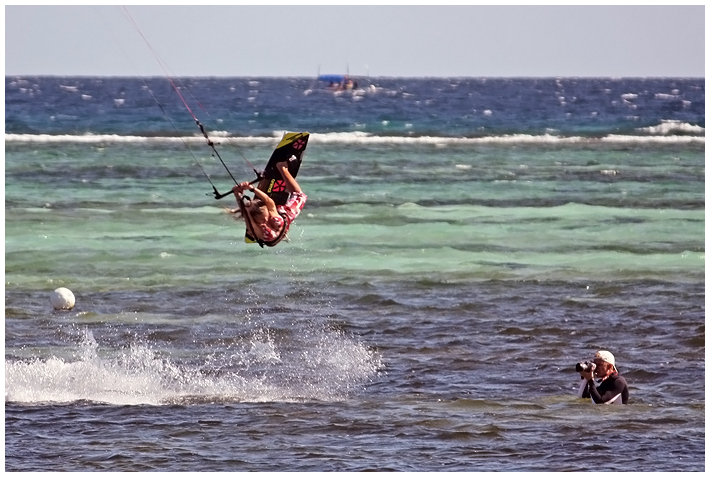 KP: Co s±dzisz o kierunku w którym zmierza kitesurfig? Czy nadal będ± ewoluowały kosmiczne tricki ogl±dane na zawodach PKRA, czy raczej będziemy ogl±dać ciemn± strone mocy, więcej wakestyle'u, jeżdzenia w butach i sliderów jak to co prezentuje DRE i spółka? A może jeszcze co innego czyli wave lub speed?
SM: My¶lę, że kiteboarding w tym momencie zmierza we wszystkich kierunkach. Każdy aspekt ma swoich "bohaterów", którzy każdego dnia posuwaj± ten sport o jeden krok dalej. Zdecydowanie s±dzę, że szybki postęp sportu mocno przystopował. Mam na my¶li, że nie ma tylu nowych tricków co tydzień, jak parę lat temu. Ale s±dzę, że sport ten z biegiem czasu będzie się stawał coraz bardziej zaskakuj±cy.
KP: Jaka jest Twoja opinia na temat wł±czenia Kitesurfingu do programu Igrzysk Olimpijskich?
SM: Zgadzam się z tym w 100%. To da nam, pro riderom, wiele nowych możliwo¶ci, aby zyskać sponsora i pomóc w reprezentowaniu naszych krajów w tym, co kochamy robić najbardziej.
Foto+tekst: Żaba / kitecenter.pl