Zakończono pierwszy etap zawodów w kitesurfingu Ford Kite Cup 2010 fueled by Burn.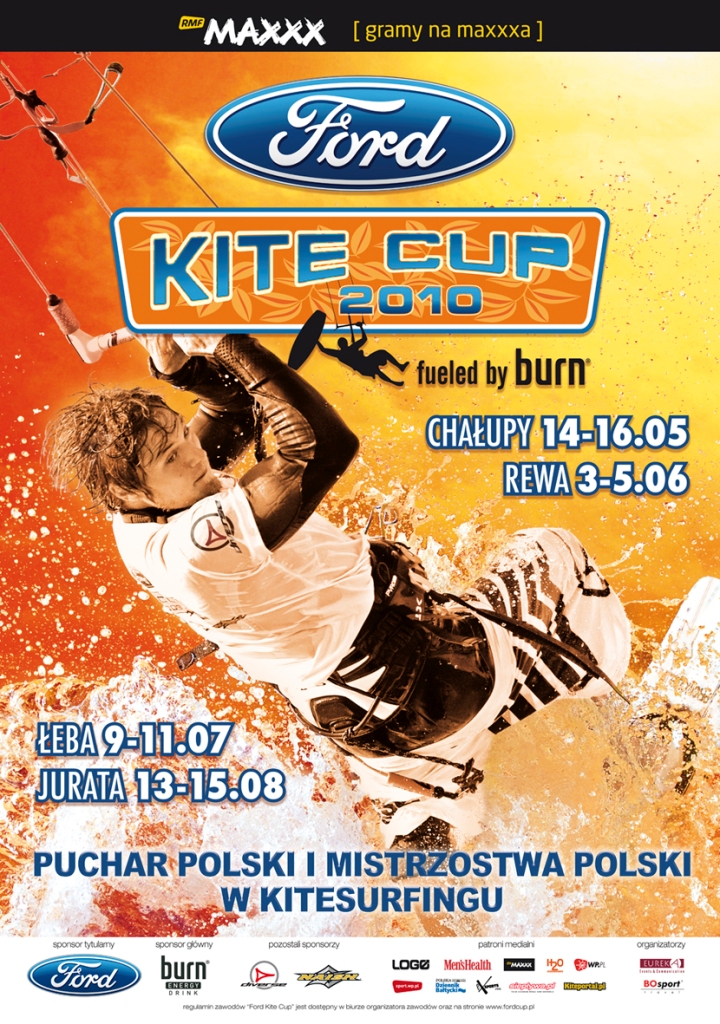 Pierwsze tegoroczne zawody należące do punktacji Pucharu Polski i Mistrzostw Polski Ford Kite Cup fueled by Burn odbyły się w miniony weekend tj. 14-16 maja w Chałupach, na półwyspie Helskim. Były to pierwsze w tym roku zawody inaugurujące sezon kitesurfingowy w Polsce. Do zawodów przystąpiło około 30 zawodników i zawodniczek z całej Polski.
Wśród nich wystartowało czterech czołowych polskich kitesurferów, którzy razem tworzą Team Forda: Karolina Winkowska (20 lat), Wiktoria Boszko (22 lata), Victor Borsuk (21 lat) i Janek Korycki (22 lata).
Pierwszego dnia, ze względu na brak wiatru udało się jedynie rozegrać konkurencję dodatkową zwaną kiteroomingiem- czyli akrobacjami wykonywanymi przez zawodników na drewnianej konstrukcji ustawionej na plaży. Podobnie, jak w poprzednim sezonie startujący w zawodach kitesurferzy zaskoczyli wszystkich obserwatorów poziomem sportowym wykonywanych trików. Najlepsze wrażenie na sędziach zrobili: Victor Borsuk, Marek Rowiński ju i Mateusz Derleta, którzy w takiej kolejności zakończyli tego dni rywalizację.
Drugi dzień zawodów, mimo niezbyt obiecujących prognoz dostarczył wiele emocjonujących pojedynków na wodzie niemal w każdej rozegranej konkurencji i kategorii.
Najpierw na wodzie pojawili się specjaliści od Course Racingu, którzy aby móc płynąc w pełnym ślizgu potrzebują znacznie mniej wiatru niż zawodnicy startujący we Freestyle'u.
We wszystkich 7 rozegranych wyścigach Courese Racingu zdecydowaną przewagę już od startu zdobył Łukasz Ceran i w związku z tym jego zwycięstwo w żadnym wyścigu nie było zagrożone.
O drugie miejsce początkowo walczyli Tomasz Janiak i 15-to letni debiutant Wojtek Issel.
Tomek zajął dwa razy drugie miejsce, ale w kolejnych wyścigach, musiał uznać wyższość młodszego zawodnika Wojtka.
Po wyścigach Course Racingu wiatr osiągnął wymaganą do rozegrania Freestyle'u siłę i rozpoczęły się pojedynki w kategorii Juniorów. Najlepsze wrażenie na sędziach zrobiła Asia Litwin, która z dużą pewnością wykonała wiele trudnych technicznie trików i wypunktowała swoich konkurentów.
W kolejnych 2 heat'ach jednak nie poszło jej już tak dobrze, głównie z powodu zimna.
Kolejny pojedynek juniorów wygrał debiutant Wojtek Istel, który ponownie zaprezentował swój duży potencjał, tym razem we Freestyle'u. Następny pojedynek juniorów wygrał Michał Maciejewski, który tym razem nie mógł zaprezentować swoich najlepszych atutów, czyli kiteloopów. Właśnie ładnymi kiteloopami często wzbudzał respekt u starszych kolegów oraz podziw publiczności. Ostatecznie jednak triki, które wykonał w granicznym wietrze przekonały sędziów do przyznania mu zwycięstwa.
W pojedynkach Mastersów (zawodnicy powyżej 35 lat) prym wiódł Tomek Janiak, który ostatecznie wyprzedził Tomka Lebeckiego i Marcina Maciejewskiego. Mimo wielu godzin spędzonych w przeraźliwie zimnej wodzie zawodnicy zadziwiali nowymi, trudnymi trikami i skutecznością ich egzekucji na wodzie.
Najbardziej wyrównane i zacięte były pojedynki wśród kobiet. Asia Litwin, Karolina Winkowska i Wiktoria Boszko, to zawodniczki z sukcesami startujące w Pucharze Świata w kitesurfingu. Asia i Karolina to odpowiednio 2-ga i 3-cia zawodniczka w rankingu Pucharu Świata 2009. Natomiast Karolina Winkowska należąca do Teamu Forda zawodniczka w tym roku, wywalczyła 3 miejsce wśród kobiet w Pucharze Świata PKRA, który odbywał się w maju we Francji.
Z tych widowiskowych potyczek najpierw zwycięsko wyszła Asia, wyprzedzając Karolinę i Wiktorię, a w kolejnym pojedynku zwyciężyła Karolina przed Asią i Wiktorią. W przypadku identycznej liczby zwycięstw oraz przy takiej samej liczbie drugich miejsc mieliśmy remis.
O zwycięstwie Karoliny zdecydował regulamin, który mówi, że remis rozstrzygany jest na korzyść zawodnika, który zwyciężył w ostatnim pojedynku. Tym sposobem zwyciężyła ostatecznie Karolina Winkowska przed Asią Litwin i Wiktorią Boszko.
Podkreślić należy fakt, że pojedynki pań stały na bardzo wysokim poziomie. Większość wykonywanych przez zawodniczki trików było bardzo trudnych technicznie, ale perfekcyjnie i w ładnym stylu wylądowanych.
Wśród panów pierwsze heaty, z powodu słabego wiatru nie dostarczyły zbyt wielu emocji. Zwyciężali w nich faworyci zawodów, najlepsi kaitesurferzy.
Miłą niespodziankę swoją postawą sprawił Paweł Kiczka, który dzięki wielu udanym trikom awansował aż do półfinału, w którym spotkał się z bardzo doświadczonym zawodnikiem Łukaszem Ceranem. Łukasz niezmiennie utrzymuje bardzo wysoki poziom sportowy i wypunktował Pawła awansując tym samym do półfinału.
Znajdujący się w dolnej części drabinki eliminacyjnej Tomek Janiak, niespodziewanie wyeliminował, należącego do Teamu Forda Janka Koryckiego. Janek, w granicznym wietrze, jaki wiał podczas ich pojedynku nie potrafił zaprezentować swojej niewątpliwej przewagi technicznej. W związku z tym musiał uznać wyższość swojego rywala, który w kolejnym pojedynku odpadł z dalszej rywalizacji, przegrywając z niezwykle walecznym Markiem Rowińskim ju.
Marek w swoim kolejnym heat'cie spotkał się z najlepszym polskim kitesurferem, czterokrotnym zdobywcą Pucharu Polski i 2-krotnym Mistrzem Polski Victorem Borsukiem. Był to bez wątpienia najciekawszy pojedynek tych zawodów. Panowie doceniając siebie nawzajem zmobilizowali się do zaprezentowania swoich najlepszych trików, wśród których widzieliśmy low mobe'a, blind judge'a, slim chance, s-bend pass'a, L-3, front i back mobe'a.
Ostatecznie decyzją sędziów zwyciężył Victor i to on awansował do finału konkurencji Freestyle.
W pojedynku o 3-cie miejsce zwyciężył Marek Rowiński ju, który po bardzo solidnej porcji trików wypunktował do końca dzielnie walczącego Pawła Kiczkę. Paweł bardzo solidnie przepracował zimę i dzięki temu, tak dobrze zaprezentował się na zawodach.
W finale, przy wietrze ok. 14-15 węzłów spotkali się Łukasz Ceran i Victor Borsuk.
Ceran, jak zwykle solidny w swoim występie zaprezentował całą gamę trudnych trików, w tym KL slim chance. Nie wystarczyło to jednak, aby pokonać doskonale dysponowanego Victora, który jak zwykle swoje triki wykonywał z dużą mocą i pewnością siebie.
Zawody mimo niezbyt sprzyjającej aury ze wszech miar można uznać za udane.
Wydaje się, że zapowiadają one wiele emocji w kolejnych edycjach Pucharu Polski i Mistrzostw Polski Ford Kite Cup fueled by Burn.
Wyniki pierwszego etapu Pucharu Polski i Mistrzostw Polski w kitesurfingu 14-16 majaChałupy 2010:
Freestyle- Kobiety
Karolina Winkowska

Joanna Litwin

Wiktoria Boszko
Freestyle- Mężczyźni:
Victor Borsuk

Łukasz Ceran

Marek Rowiński ju

Paweł Kiczka

Kamil Gajdziński
5. Marcin Maciejewski
5. Tomasz Janiak
5. Łukasz Maciejewski
Freestyle- Masters:
Tomasz Janiak

Tomasz Lebecki

Marcin Maciejewski
Freestyle- Junior:
Michał Maciejewski

Wojtek Issel

Joanna Litwin
Course Racing (7 wyścigów):
Łukasz Ceran

Wojciech Issel

Tomasz Janiak
Kiterooming- Mężczyźni:
Victor Borsuk
Kiterooming- Kobiety:
1. Joanna Litwin
W ramach Ford Kite Cup 2010 fueled by Burn rozegrane zostaną jeszcze trzy edycje Pucharu Polski oraz Mistrzostw Polski:
3 - 5 czerwca Rewa
9 - 11 lipca Łeba
13 - 15 sierpnia Jurata (Mistrzostwa Polski)
Oficjalna strona zawodów www.fordcup.pl
Zdjęcia: Łukasz Nazdraczew/Eureka