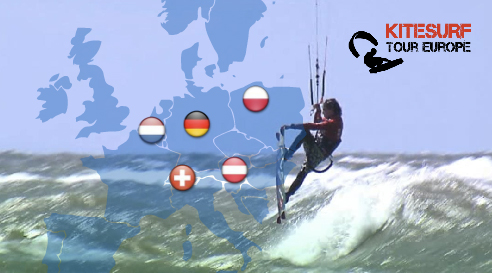 Elohomora!
Wła¶nie wczoraj wróciłem do domu z Holandii, gdzie byłem na bardzo ciężkich zawodach... Na nieszczę¶cie byłem jedynym reprezentantem kiteteam'u co wynikło po czę¶ci z tego, że listę uprzywilejowanych zawodników (którzy maj± prawo do startu w kolejnym event'cie dzięki dobrej woli ja¶nie organizatorów) dostali¶my na dosłownie kilka dni przed zawodami. Na pierwszej takiej li¶cie (przesłanej do nas w niedziele) znalazł się z nie wiadomo jakich powodów mój tata... Dobra, nieważne. W drogę wyruszyłem razem z Victorem, Księciem i Tomkiem Janiakiem, który zorganizował nam dojazd jako posiadacz całkiem fajnego busika. Podróż do Noordwijk, gdzie rozgrywały się zawody, minęła nam przyjemnie, mimo totalnie załadowanego samochodu. Mieli¶my taki nadmiar sprzętu, że poruszali¶my się w ¶rodku jak astronauci z NASA. Po kilkunastogodzinnej jeĽdzie dotarli¶my na miejsce. Wła¶ciwie przez cał± Holandie przejechali¶my w pełnym słońcu i temperaturze około 20 stopni. Natomiast wjeżdżaj±c do osławionego Noordwijk zagłębili¶my się w gęst± mgłę. Zrobiło się momentalnie zimno. Przejeżdżaj±c przez centrum zobaczyli¶my tylko jeden plakat, na którym małymi literami było napisane dokładne miejsce imprezy. Po odnalezieniu drogi zostawili¶my auto na parkingu i wyszli¶my na spot. Spotkali¶my tam już paru zawodników, więc z ulg± zeszli¶my na dół, na plażę. Na zapisach spotkali¶my resztę polskiej reprezentacji- Błażeja i Japę oraz Wojtka z tat±. Pokręcili¶my się tam jeszcze trochę i pojechali¶my razem na jedzenie w noname fastfoodzie, a potem do naszych kwater. Mieszkali¶my, dzięki tacie, wszyscy razem w fajnym dwu-piętrowym domku.
Następnego dnia po skipersie o 9.00 napompowali¶my największe latawce z nadziej± na wiatr. Zaczęło się jak zawsze niewinnie od rejsów, ponieważ wiatr nie przekraczał 12 węzłów. I tu mała niespodzianka, bo Księciu nagle schodzi z wody z rozwalon± ręk± sikaj±c na około hektolitrami krwi. Po bardzo niesprawnej akcji ratunkowej i wypełnieniu paru niezbędnych formularzy Łukasz "dostał to na co zasłużył", czyli 3 szwy w okolicy nadgarstka. Okazało się, że rozchlastał się finem. Na szczę¶cie ostry jak brzytwa statecznik omin±ł jego tętnice, a więc i ominęła go ¶mierć pierwszego kajtowego męczennika (mam nadzieję, że nie czytacie tych zdań na serio...). Wykluczyło go to definitywnie z rywalizacji, co zasmuciło nas mocno, bo Księciu miał obiecuj±ce rozstawienie we freestylu, a w race też by pewnie pokazał klasę.
Graniczne warunki pozwoliły na rozegranie połowy drabinki we freestylu. Ja odpadłem z jakim¶ van Eschem i tylko Victorowi udało się dostać do pierwszej ósemki. I je¶li chodzi o wiatr to wystarczył na rozegranie ostatniego heatu drugiej rundy, a potem to tak na serio już nic nie wiało, więc nie chce mi się pisać o tym jak próbowano puszczać rejsy albo o specjalnym skipersie o 5 rano. Mogę natomiast napisać jak wygl±dały atrakcje dla zawodników. Było kilka namiotów wypełnionych najnowszym sprzętem, parę budek z jedzeniem (które zaraz z przyjemno¶ci± zbluzgam), a na ¶rodku batut z podwieszonym barem, na który trudno się było dopchać. Podsumowuj±c- mega nudy. Za to jedzenie dostarczało nam wiele emocji. To co było dla nas przygotowane to był jaki¶ żart! Do wyboru: ohydny hamburger, pudełko ze sztuczn± sałatk± owocow±, kawałek kurczaka. Mieli¶my prawo do dwóch takich "posiłków" dziennie. Do picia tylko woda, chyba, że rano podpieprzyli¶my co¶ sami z lodówek. Po całym weekendzie jedzenia takiego taniego dziadostwa (azaliż wieczerzali¶my w McDonaldzie) rzygać mi się już chciało. KBO (Kiteboard Open- lokalny organizator) poległ je¶li chodzi o organizacje. O wszystkich tych wpadkach możecie pewnie już teraz poczytać sobie na kiteforum. Ja dodam od siebie, że organizatorzy z IKA też się nie popisali. Obejdę się bez popularnego przynudzania o tym, że liczę na następne zawody, że na pewno będ± lepsze od poprzednich (tak obiecywali nam ziomale z IKA) bo wiem, że to raczej logiczne skoro następny przystanek KTE jest na Sylcie. Tam sama pula nagród wynosi 40tys. Euro.
"Podsumowuj±c te cztery mozolne dni powiem, że mam już serdecznie do¶ć startowania w zawodach i mijania się z wiatrem."- napisałbym pewnie co¶ takiego gdyby nie to, że zaliczyłem parę godzin temu sesyjkę na moim domowym spocie. Bardzo silny wiatr, słońce- wraca mi już motywacja. Dodam jeszcze, że moje kiteloopy s± już chyba warte zobaczenia.
Do zobaczenia w Rewie!
Marek (SU-2, Flexifoil)
Fotki z imprezy znajdziecie na www.kitesurftour.eu/galery/