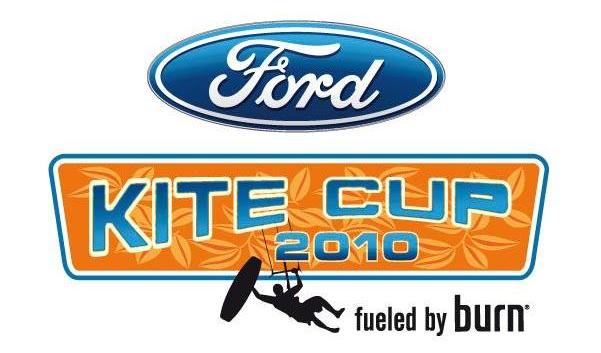 Cześć!
Jak wiadomo w czwartek odbyła się kolejna edycja Forda, na którą pojechaliśmy prawie całym kiteteamem- zabrakło tylko Maurycego. W Rewie to właściwie nie zmieniło się kompletnie nic. Dalej jest tam piaszczysty cypelek z kamykami przez które mam potem zawsze pocięte stopy. Dalej jest dużo chodzenia i noszenia sprzętu. Ale czego się nie robi żeby popływać na jednym z lepszym polskich spotów. Prognozy były naprawdę cieniutkie i osobiście jechałem tam bez większej wiary w wiatr. Jednak gdy przybyliśmy na miejsce okazało się, że już trochę powiewa. Po przywitaniu się z ekipą, która przygotowywała sprzęt na parkingu poszliśmy się zapisać. Każdy wziął ze sobą większość swego sprzętu azaliż chodzenie po cyplu w jedną i drugą jest tak wkurzające, że zdecydowanie nie ma co tego robić z powodu zapomnianego baru czy deski. Po drodze minęliśmy jeszcze paru znajomych- do Rewy przyjechało zdecydowanie więcej zawodników. Pojawił się nawet Batman (dzięki za koszulkę!) ze swoimi Dill Slingshotami. Ja zdołałem doczołgać się do namiotów z moim słabowiatrowym setem i zaraz po zapisach nadmuchałem trzynastkę. Wtedy wyglądało, że już naprawdę wieje, więc odpaliłem flexi szmatę i wyszedłem polansować się w mojej nowej piance. Był to bardzo dobry pomysł, bo zupełnie przez przypadek wylądowałem kilka dobrych ewolucji, co podbudowało moją pewność siebie i pewnie napełniło gacie tych ze słabą psychiką. Po rozpisaniu tabelki ruszyły na początek chyba dwa rejsy i ze względu na to, że wiatr nie schodził poniżej szalonej siły 12 węzłów ruszyła pojedyncza. Nie będę się rozpisywał na temat każdego heatu, bo po pierwsze ich nie pamiętam, a po drugie za dużo ich mieliśmy żeby każdy opisać. I całe szczęście, bo taka ilość pojedynków oznacza zazwyczaj wysokie miejsca. W tym wypadku mogę spokojnie powiedzieć, że kiteteam zdominował freestyle prawie w stu procentach. Razem z Matem i Łukaszem obsadziliśmy drugie, trzecie, i czwarte miejsce. Jedynie Victorowi udało się ochronić swoją pozycję. W juniorach i mastersach nasze koty, czyli Michał i Marcin zajęli drugie miejsca. Jak wiecie reprezentantki do zdominowania lasek nie mamy, a w rejsie to dopiero zaczynamy. Mój tata i Maurycy na pewno Wam jeszcze pokarzą!
Niestety nie obyło się też bez smutnych aspektów tego wyjazdu. Łukasz w półfinałowym heacie z Victorem przy lądowaniu sbend passa wykręcił sobie kostkę i będzie miał teraz przerwę w pływaniu. Mam nadzieję, że rehabilitacja pójdzie mu dobrze i już w następnych zawodach zobaczymy go w pełnej klasie. Dodam jeszcze, że w Rewie komentarzem cały czas zajmował się Bart... no może raz udało się młodemu coś krzyknąć. Także mieliśmy regularnie okazję do posłuchania jak zawsze śmiesznych tekstów- w tym wypadku było ich chyba najwięcej na tematy race'owe. Bardziej rozgadanymi zajęła się ekipa DZIDY. Wydaje mi się, że rekordowo długiego wywiadu udzielił Marcin (zdążyłem zwinąć jednego kajta a on dalej tam gadał). Bardzo się cieszę, że Mleczny i Eska są teraz na Fordzie, bo jak wiemy po Chałupach można było sobie obejrzeć film-relację i do tego jeszcze bonus z wywiadami. Także coś się dzieje- ciekaw jestem jak wyjdą te wywiady z Rewy.
Teraz będziemy trenować na naszych spotach, w Szczecinie i okolicach. Mam nadzieję, że zaliczymy też kilka wypadów na wspaniałą Rugię. I jeżeli nie zobaczymy się gdzieś na wodzie to do zobaczenia w Łebie- oby tylko wiało!
To tyle jeśli chodzi o fakty.
Chciałem jeszcze napisać kilka rzeczy o których pewnie nie będziecie mogli przeczytać na kiteforum czy gdziekolwiek indziej- to takie po części moje przemyślenia...
Przede wszystkim jestem pod wrażeniem postępów Mata. Nie mówię tu o jakiejś nie wiadomo jakiej ilości nowych tricków, ale ogólnie o stylu. Oglądałem jego heat z Księciem i podoba mi się szczególnie to co robi na switch stance. Ma wachlarz tricków, które po prostu idealnie pasują na zawody. Mat trenował na wiosnę trochę w Egipcie, ale za to praktycznie nie pływał przed zawodami w polskich warunkach. Mogę się założyć, że ma dużo fajnych tricków do pokazania- musi je tylko przerzucić na "polskie morze". Mam wrażenie, że jak się trochę ogarnie będzie mógł bić rekordy jeśli chodzi o ilość manewrów w heacie. Bynajmniej pamiętam jak dwa lata temu uczył się swoich pierwszy tricków na switchu- również w Egipcie. Było to KGB i szczerze powiem, że wyglądało ohydnie. Teraz gdy widzę jak to robi zaczynam mu naprawdę zazdrościć, bo wygląda bardzo fajnie, a co najważniejsze jest na powerze. Tylko czekam aż zacznie łupać KGB do blinda w obie strony. I w ogóle kiedyś (dawno, dawno temu) z nim tak było, że pierwsze próby jakiś tricków wyglądały raczej mało hardcorowo, był to taki trochę kiterooming na wodzie. Ale wiadomo- takie były początki i teraz jestem już zupełnie spokojny o jego styl i power. Szkoda, że nie widzieliście jego front mobów do blinda. Według mnie żaden Polak tak ładnie tego tricku jeszcze nie robił. Duży potencjał- tak zakończę jego wątek.
O Łukaszu chciałbym napisać, jak zauważył mój tata, że jest stworzony do zawodów. Naprawdę nie ma, co się oszukiwać. Postępy może zrobić każdy- wystarczy bilet na Rodos i dwa tygodnie dobrej prognozy. Ale mało kto ma dobrą psyche, jeśli chodzi o współzawodnictwo i jest to zazwyczaj efekt dużego doświadczenia. Za to Łukasz ma totalnie gdzieś z kim płynie, jakie są warunki i czy nie ma przypadkiem za dużego kajta. On wychodzi na wodę i robi swoje- nieważne jak trudny ma heat. Nie ma taryfy ulgowej dla nikogo i nikt nie jest go w stanie przestraszyć. I nie ma też innego takiego żywiołu na wodzie. Pływałem z nim już bardzo dużo i wiem co mówię. W RPA widziałem jak robił megaloop 313 z barem przechwyconym na co najmniej 6 metrach. Albo w Brazylii siedzieliśmy z Matem na plaży i patrzyliśmy na Łukasza, który przymierzał się do blind judga 5. Tak to mniej więcej wyglądało:
-I co jak było?
-Ty! Zrobiłeś prawie sbend double passa!
-No co wy! Niemożliwe.
-Na serio, widzieliśmy sbenda.
Łukasz mógłby uczyć też wszystkich sztywniaków do czego służy kite. Z nikogo nie potrafię się tak śmiać na wodzie jak z niego. Kiedyś zrobiliśmy sesję z szortami na głowie (dwa lata temu w Magawishu). Nigdy nie zapomnę jak wybił się, szorty zjechały mu zupełnie na oczy i na ślepo przechwytywał bejota z furkającymi gaciami na uszach. Albo jak próbował "Jesus Walka", albo jak wlatywał w trzciny na Rugii. Właściwie to Łukasz stał się dobrym zawodnikiem robiąc co chwile jakieś powalone akcje a nie "trenując nowe tricki". Mam nadzieję, że jeszcze Was zaskoczy- także masz leczyć teraz swoją nogę!
Michał aka "Młody" jest jeszcze bardzo młody i ja osobiście bardzo w niego wierzę i wiem, że nadejdzie taki dzień, kiedy zacznie się jego postęp ekspresowy. Nie ma co go popędzać, wiem, że niby powinien już zacząć łapać w lot te wszystkie triczki, ale naprawdę jestem o niego spokojny. Na razie cieszy mnie to, że mogę go jeszcze czegoś pouczyć-chociaż Ty pierwszy robiłeś kiteloopy z grabami, ja dopiero wczoraj spróbowałem. Ciekaw jestem jak to będzie widzieć, że taki mały pimpek robi się nagle lepszy ode mnie. I mam nadzieję, że dzięki pływaniu z nami Michał wie, że trzeba pływać ze stylem i to jest najważniejsze (przynajmniej ja go staram się tak urobić). I jeśli następnym razem znowu wylosujesz mnie w pierwszym heacie to zgłaszamy protest mały!
Marek Rowiński Junior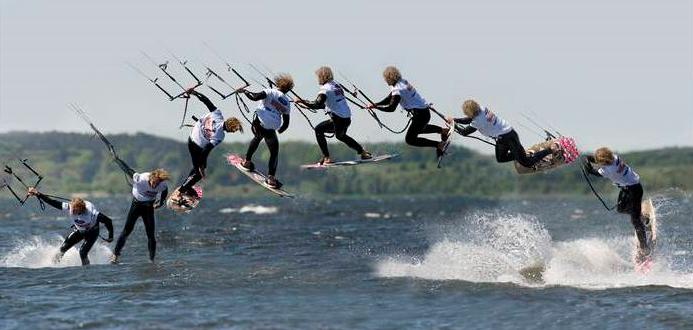 Źródło: www.kiteteam.pl
Foto: Eureka