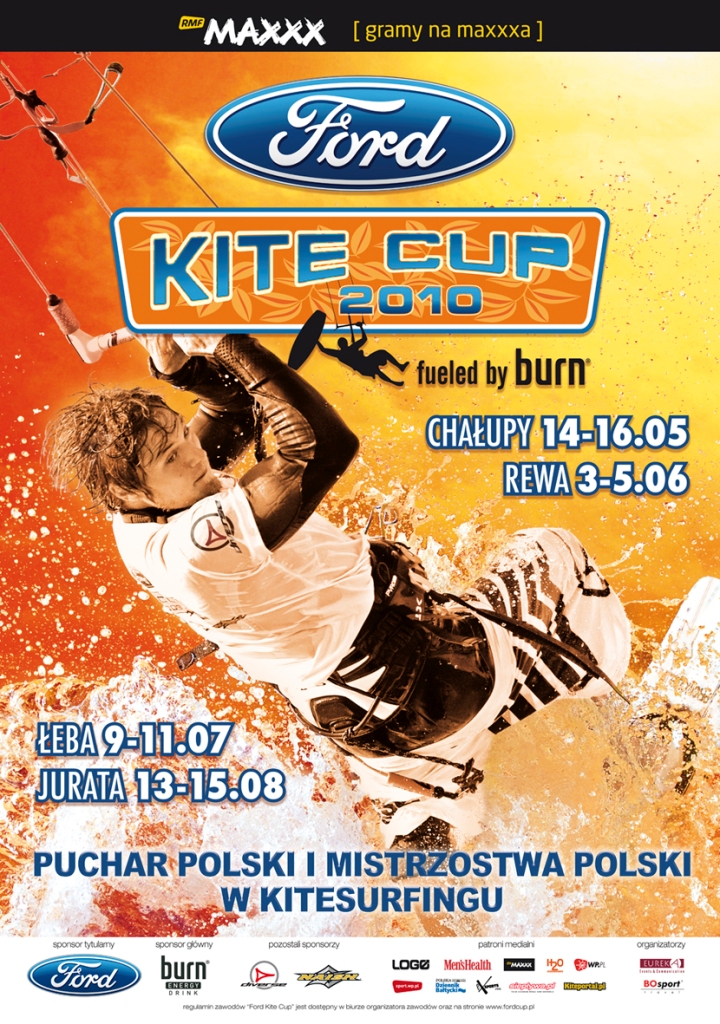 Trzecia edycja zawodów Pucharu Polski Ford Kite Cup 2010 fueled by Burn tradycyjnie odbyła się w Łebie.
Prognozy wiatrowe nie napawały optymizmem, ale w przeszłości przy słonecznej pogodzie i jakimkolwiek wietrze ze wschodu można było liczyć na popołudniową bryzę.
Pierwszy dzień zawodów wypełniony był jedynie czekaniem na wiatr z krótkim epizodem na wake'u gdzie prym wiódł Marek Zach. Mimo wschodniego kierunku wiatru, popołudniowa bryza nie wystarczyła do rozegrania żadnej z zaplanowanych konkurencji.

Drugi dzień zawodów od rana wyglądał bardziej optymistycznie. Ok. 11-tej na akwenie pojawił się wiatr odpowiedni do rozegrania konkurencji Race, ale niestety tak szybko jak się pojawił, tak samo szybko zniknął nie pozwalając na rozegranie wyścigów.
Na szczęście ok. godziny 14-tej wiatr odkręcił do korzystnego dla rozegrania zawodów kierunku wschodniego. Po szybkim rozstawieniu trasy, udało się sprawnie rozegrać 3 wyścigi konkurencji Race, w których tym razem dominował Błażej Ożóg. Przy wietrze o sile 11-13 węzłów Błażej z dużą łatwością w każdym wyścigu wypracowywał sobie sporą przewagę już na halsówkach i niezagrożony za każdym razem mijał metę jako zwycięzca. O drugie miejsce tym razem zacięty bój stoczyli Łukasz Ceran i Tomasz Janiak. W pierwszym wyścigu górą był Tomek, ale w dwóch kolejnych wyścigach to Łukasz mijał metę jako 2-gi, czym zapewnił sobie 2-gie miejsce w klasyfikacji Race.

Po rozegraniu 3 wyścigów wiatr wzmógł się do wystarczającej siły minimum 12 węzłów, aby rozegrać konkurencję Freestyle. Pierwsi do rywalizacji ruszyli juniorzy i zaprezentowali się jeszcze lepiej niż w poprzednich tegorocznych zawodach. Wspaniała słoneczna pogoda dodała im widocznie animuszu i prezentowali wiele wspaniałych skoków i trudnych technicznie trików.
Walkę o zwycięstwo ponownie stoczyli Michał Maciejewski i Wojtek Issel. Pierwszy ich pojedynek na swoja stronę przechylił Wojtek, ale w dwóch kolejnych górą był Michał i to on wyjechał z Łeby jako zwycięzca w kat. Juniorów. Pola starszym kolegom próbował dotrzymać 12-to letni Denis Żurik, ale tym razem musiał uznać wyższość nieco starszych kolegów.

Wśród kobiet zwycięstwo odniosła Wiktoria Boszko, która dwukrotnie pokonała Michalinę Laskowską. Obie zaprezentowały sporo godnych uwagi trików, które licznie zgromadzeni kibice kwitowali oklaskami.

W kategorii Masters (zawodnicy powyżej 35lat) ponownie prym wiódł Tomasz Janiak, który wypunktował swoich konkurentów bezbłędnie ładowanymi trikami. Najbardziej efektowny w jego wykonaniu to kiteloop HP. Bardzo wysoko poprzeczkę zawiesił konkurentom Marcin Maciejewski i chociaż nie zdołał pokonać Tomka, to zasłużenie zajął 2-gie miejsce. Na 3-cim uplasował się tym razem Ryszard Derleta.

W kategorii mężczyzn od pierwszych pojedynków można było podziwiać zawodników wznoszących się na wyżyny swoich umiejętności. Już w pierwszym heat'cie los zetknął Marka Zacha i Tomka Dakterę, czyli dwóch zawodników pretendujących do najwyższych miejsc i jednocześnie zawodników prezentujących bardzo widowiskowy styl. Obydwaj przystąpili do walki z ogromnym animuszem i udawało im się lądować najtrudniejsze triki w bardzo spektakularny sposób dostarczając widzom wiele pozytywnych emocji. Skuteczniejszy w tym pojedynku okazał się Marek i to on awansował do kolejnej rundy zostawiając poza dalszą rywalizacją jednego z faworytów.
W kolejnym pojedynku Marek znów musiał wznieść się na wyżyny swoich umiejętności, gdyż na jego drodze pojawił się kolejny z czołowych zawodników Łukasz Ceran. Od pierwszych sekund zarówno Marek jak i Łukasz lądowali z niezwykłą skutecznością wiele hp-ków, w tym kl slim i blind judge3, jednak sędziowie docenili lepszy styl Marka i większą moc, z jaką wykonywał swoje triki i to on awansował do kolejnej rundy w której zmierzyć się musiał z Mateuszem Derletą, czyli 3-cim zawodnikiem zawodów w Rewie. Tym razem Marek musiał pogodzić się z porażką mimo że ponownie zaprezentował cała gamę bardzo trudnych technicznie i bezbłędnie wyładowanych trików. Mateusz, który w tym roku pływa z większą mocą znany jest również ze swojej regularności. Ta regularność oraz moc w połączeniu z bardzo bogatym repertuarem trików jaki zaprezentował pozwoliły mu pokonać tak trudnego przeciwnika jakim jest Marek. Zanim jednak Mateusz spotkał się z Markiem musiał zmierzyć się z równie trudnym przeciwnikiem, jakim jest Janek Korycki.
Janek to mistrz stylu i zawodnik niezwykle doświadczony, a także mający bardzo bogaty repertuar trików, ale jednocześnie to zawodnik, który czasem w zadziwiający sposób nie potrafi wykorzystać tych swoich niezaprzeczalnych atutów. Mateusz wyszedł z tego pojedynku zwycięsko.
Wielu zawodników było tego dnia dobrze usposobionych, co doskonale widać było na wodzie po tym, z jaką swobodą wykonywali swoje pokazy. Pomogły w tym z całą pewnością doskonałe warunki, jakie panowały na akwenie. Słońce, ciepła woda i równy, wiejący z siłą 13-17 węzłów wiatr.
Wśród wielu ciekawych pojedynków należy wymienić: wygraną Marcina Maciejewskiego nad Pawłem Kiczką i zwycięstwo Filipa Porzucka nad Kamilem Gajdzińskim.
W ćwierćfinałach Mateusz Derleta pokonał Marka Zacha, Łukasz Maciejewski wygrał z Tomkiem Janiakiem i Victor Borsuk z Filipem Porzuckiem. Czwarty ćwierćfinał omal nie zakończył się mega sensacją po tym jak Marek Rowiński po wylądowaniu swojego pierwszego triku wpadł do wody i nie mógł przez kilka minut wystartować swojego latawca. Czas upływał nieubłaganie, Marcin lądował triki, a Marek zmagał się z latawcem. Dosłownie na minutę przed zakończeniem heat'u wystartował i "rzutem na teśmę" zdołał wykonać triki, którymi pokonał Marcina.
W półfinałach spotkali się dokładnie ci sami zawodnicy, co w Rewie i w dodatku w takich samych pojedynkach: Mateusz Derleta vs Marek Rowiński i Victor Borsuk vs Łukasz Maciejewski. W pojedynku kolegów z kiteteamu lepszy okazał się Marek Rowiński głównie dzięki większej mocy, z jaka wykonywał swoje triki. W drugim półfinale Victor dzięki większej różnorodności swojego repertuaru wypunktował Łukasza Maciejewskiego.
W walce o 3-cie miejsce Mateusz Derleta po bardzo spektakularnym pokazie wygrał z Łukaszem Maciejewskim. Obydwaj zaprezentowali wiele rodzajów hp wykonywanych z dużą mocą w latawcu. Kl hp, blind judge, slim chance, front i back mobe to tylko niektóre triki tego pojedynku.
W finale spotkało się dwóch faworytów tegorocznego sezonu. Niepokonany w Polsce od kilku lat Victor Borsuk i ostro prący do przodu od kilku sezonów Marek Rowiński. Obydwaj znają się doskonale i znają swoje silne jak i słabsze strony. Od początku starali się lądować swoje triki z jak największą mocą i wyeksponować swoje zalety. Front i back mobe, low mobe, blind judge, s-bend pass, slim to blind. W tym bardzo wyrównanym pojedynku o zwycięstwie mógł zadecydować pojedynczy trik i właśnie tak się stało. Victor wykonał front mobe to blind, ale wykonał go poza strefą zawodów, więc nie mógł być zaliczony do jego wyniku. Sędziowie stosunkiem głosów 2:1 uznali Marka Rowińskiego zwycięzcą tego finału. Przy tak wyrównanym pojedynku uznali, że Marek wykonywał swój pokaz z większą mocą w latawcu i prezentując lepszy styl.
Podczas ogłaszania wyników obydwu finalistów wręcz "zamurowało". Victor wprawdzie wie, że Marek jest niezwykle trudnym przeciwnikiem, ale z pewnością nie spodziewał się że to akurat ten pojedynek przerwie jego wspaniałą kilkuletnią serię zwycięstw w polskich zawodach! Marek prawdopodobnie też czuł, że nie był to najlepszy występ w jego karierze i akurat tego dnia zdoła pokonać Victora.
Ale stało się i mamy pierwszy raz Marka Rowińskiego jako zwycięzcę zawodów Pucharu Polski Ford Kite Cup.
Prawdopodobnie Victor z jeszcze większą determinacją będzie chciał udowodnić konkurentom, że za wcześnie się cieszą z jego detronizacji, a grupa pościgowa prawdopodobnie poczuła krew i z jeszcze większą wiarą w sukces zacznie naciskać dotychczasowego hegemona! Rywalizacja o Puchar Polski nabiera rumieńców i jeszcze niejednego ciekawego rozstrzygnięcia możemy się spodziewać.
Ostatnim akcentem jakże ciekawych i udanych zawodów była konkurencja "best trick", w której zawodnicy mieli wykonać jeden jak najbardziej spektakularny trik.
Niestety słabnący wiatr nie pozwolił zawodnikom na zaprezentowanie pełni ich umiejętności.
Przy wietrze 10-12 węzłów sędziowie za najlepszy trik uznali "double back roll to wrapped" wykonany przez Tomka Dakterę.
Rozstrzygnięcie Pucharu Polski nastąpi już za miesiąc w Juracie. Wielu zawodników zapewne solidnie potrenuje do tych zawodów, co gwarantuje nam sporo emocjonujących pojedynków.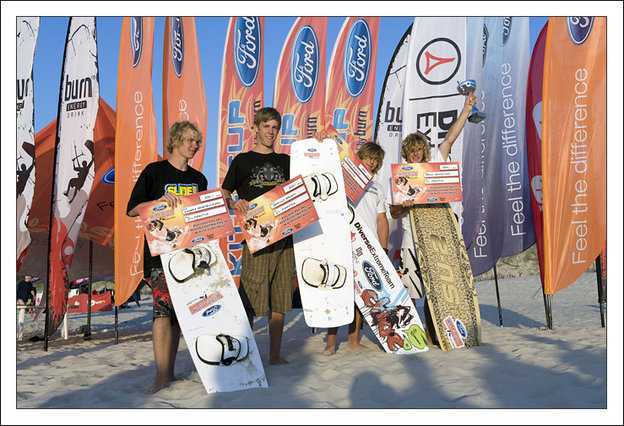 Freestyle - mężczyżni
1. Marek Rowiński - Grzybowo
2. Victor Borsuk - Gdańsk
3. Mateusz Derleta - Szczecin
4. Łukasz Maciejewski - Szczecin

Freestyle – kobiety
1. Wiktoria Boszko - Warszawa
2. Michalina Laskowska – Swarzewo

Freestyle – masters (powyżej 35lat)
1. Tomasz Janiak - Sopot
2. Marcin Maciejewski - Szczecin
3. Ryszard Derleta - Szczecin

Freestyle – juniorzy (poniżej 16lat)
1. Michał Maciejewski - Szczecin
2. Wojciech Issel - Oborniki Śląskie
3. Denis Zurik - Sopot

Race:
1. Błażej Ożóg - Gliwice
2. Łukasz Ceran - Warszawa
3. Tomasz Janiak - Sopot

Best trick:
Tomasz Daktera - Warszawa

Wakeboard:
Marek Zach - Czechy
Wiktoria Boszko - Warszawa
Galeria z zawodów FKC fueled by Burn - Łeba 2010 niebawem na www.fordcup.pl !