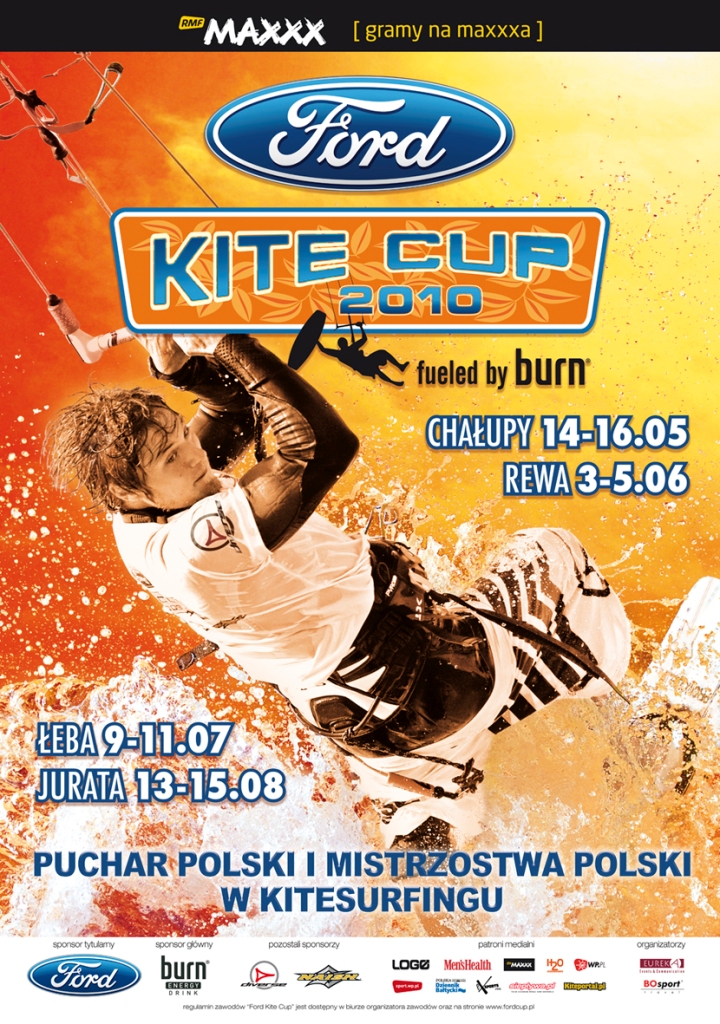 Mistrzostwa Polski w Juracie były jednocześnie finałowymi zawodami Pucharu Polski 2010 i sytuacja we wszystkich kategoriach, oprócz kategorii Masters, była taka, że o zdobyciu Pucharu Polski miały decydować właśnie wyniki tych ostatnich zawodów.
Zawodnicy podeszli do tych zawodów niezwykle zmotywowani i skoncentrowani, co zaowocowało bardzo interesującymi pojedynkami. Losy mistrzowskiego tytułu i zdobywcy Pucharu Polski wyjaśniły się w ostatnim pojedynku mężczyzn w konkurencji Freestyle, a w konkurencji Racing w ostatnim wyścigu!
Prognozy jak zwykle w tym roku nie były zbyt obiecujące, ale rzeczywistość okazała się bardziej przychylna zawodnikom i organizatorom. Piękna plaża, słońce i wiatr o sile 13-18 węzłów stworzyły wspaniałą scenografię dla mistrzowskich rozgrywek.
Jako pierwsi do rywalizacji przystąpili juniorzy i zaprezentowali się jeszcze lepiej niż podczas zawodów w Łebie. Denis Żurik dołożył do swojego repertuaru blind judge'a, a Wojtek Issel Slim chance. Michał Maciejewski tradycyjnie już demonstrował bardzo dynamiczny styl, ale tym razem musiał uznać zwycięstwo Wojtka.
Następnie do rywalizacji przystąpiły Panie. Liderka PP Wiktoria Boszko z ogromną determinacją walczyła z faworyzowaną i bardziej utytułowaną Karoliną Winkowską. Karolina po ostatnich sukcesach w Pucharze Świata (2m na Sylcie i 2-gie na Fuertaventurze), z dużą swobodą i w bardzo ładnym stylu lądowała swoje najlepsze triki, w tym slim, s-bend pass, bj3 i 313. Sędziowie stosunkiem głosów 3:0 wskazali na Karolinę.
Brązowy medal wywalczyła, po raz pierwszy startująca w Polsce, zawodniczka z Litwy Kristina Kekyte, której kiteloopy bardzo wszystkim przypadły do gustu i wielokrotnie nagradzane były oklaskami publiczności.
W kategorii Masters ponownie prym wiódł Tomasz Janiak, a o srebrny medal bardzo zacięta walka toczyła się pomiędzy Michałem Olbrychskim i Tomaszem Lebeckim i dopiero w 3-cim pojedynku Michał zapewnił sobie srebrny medal, zostawiając Tomka Lebeckiego w pokonanym polu.
W kategorii Mężczyzn od pierwszej rundy zawodnicy starali się jak mogli i licznie zgromadzeni na plaży w Juracie kibice mogli podziwiać wysokie skoki, kiteloopy i różnorodne hp-ki w wykonaniu najlepszych polskich zawodników, a także 3 zawodników z Litwy.
Szczególnie Jonas Krisciunas zaimponował świetną formą. W pierwszej rundzie w ładnym stylu pokonał Dariusza Ziomka, a w 2-giej po bardzo dobrym występie uległ ubiegłorocznemu zwycięzcy PP Victorowi Borsukowi.
Od 2-giej rundy zresztą zawodnicy z każdym pojedynkiem wyraźnie się rozkręcali, demonstrowali coraz lepszą formę i trudniejsze triki. Widać było że solidnie przepracowali miesiąc, który upłynął od zawodów w Łebie.
W najciekawszych pojedynkach 2-giej rundy, poza wspomnianym Victora z Jonasem, Paweł Kiczka wygrał z rozstawionym z nr3 Łukaszem Maciejewskim, ale musiał wykonać wszystkie swoje najtrudniejsze triki, aby zyskać uznanie sędziów. Filip Porzucek pokonał coraz lepiej pływającego Kamila Gajdzińskiego, a Mateusz Derleta dzięki trudniejszemu technicznie pokazowi pokonał zawsze groźnego dla najlepszych Janka Koryckiego.
W pojedynkach ćwierćfinałowych spotkali się: Łukasz Ceran z Pawłem Kiczką, Filip Porzucek z Markiem Rowińskim Jr., Tomek Daktera z Mateuszem Derletą i Victor Borsuk z Wojtkiem Isselem.
Pojedynki ćwierćfinałowe, półfinałowe i finały to prawdziwy festiwal trudnych i przeważnie bezbłędnie wykonywanych trików w wykonaniu faworytów. Wymienię tylko najtrudniejsze, które wykonali nasi najlepsi zawodnicy.
Mateusz Derleta: front i back mobe, KGB i KGB switch, slim i slim switch, bj3 i 313.
Łukasz Ceran: kl slim, flat3, kl hp, slim, slim switch, bj.
Tomek Daktera: frontmobe blind, backmobe wrapped, kl bj z blind'a, jednoręczny kl hp, jednoręczny bj3.
Marek Rowiński Jr.: double s-bend to blind, bj3, low mobe, s-bend pass, KGB, back mobe z grabem, 313, 313 to switch.
Victor: back mobe to wrapped, front mobe to blind, double back roll to wrapped, switch slim, switch KGB.
Sędziowie mieli trudny orzech do zgryzienia w większości pojedynków, bo poziom był zdecydowanie wyższy niż w poprzednich zawodach.
W półfinałach spotkali się: Łukasz z Markiem i Victor z Tomkiem.
Półfinały i finały rozegrane były przy nieco słabszym wietrze, przez co straciły nieco na widowiskowości, ale i tak zawodnicy pokazali trudne, wykonywane z dużą mocą w latawcu triki.
Do finału awansowali Victor i Marek, czyli zawodnicy 1 i 2 rankingu po 3 edycjach PP i ponownie sprezentowali wszystkim świetne, stojące na bardzo wysokim poziomie widowisko, w którym zwyciężył Victor.
Ci wszyscy, którzy liczyli na niespodziankę i inne rozstrzygnięcie Mistrzowskiego tytułu oraz Pucharu Polski, będą musieli odłożyć swoje nadzieje przynajmniej do przyszłego roku, o ile nie dłużej. Victor jest wojownikiem i może przez zbieg okoliczności lub słabszy dzień przegrać pojedynek, ale gdy w grę wchodzi los PP i los Mistrzowskiego tytułu, nie pozostawia przeciwnikom żadnych wątpliwości, kto jest najlepszym polskim zawodnikiem.
Udowadniał to przez kilka ostatnich lat i z cała pewnością, o ile będzie chciał, udowodni to w kolejnych latach! Pretendenci będą zmuszeni jeszcze wiele się nauczyć aby w przyszłości mu zagrozić.
Zdobywca srebrnego medalu i 2 miejsca w rankingu PP Marek Rowiński zaliczył świetny sezon i z zawodów na zawody prezentuje coraz wyższą formę i z cała pewnością w przyszłym roku przygotuje jeszcze bardziej widowiskowe i trudniejsze triki.
W pojedynku o brąz zwyciężył Tomek Daktera, który dołożył do swojego repertuaru kilka spektakularnych trików, w tym one handed kl hp, którymi m.in. pokonał Łukasza.
Również w konkurencji Course Racing rozstrzygnięcie losów PP dokonało się w ostatnich wyścigach zawodów.
Prowadzący w klasyfikacji po 3 edycjach Łukasz Ceran musiał od pierwszego wyścigu odpierać ataki Błażeja Ożoga, który po odpadnięciu w 1-wszej rundzie freestyle'u skoncentrował swoje wysiłki na CR. Obydwaj zawodnicy w każdym z 7-miu rozegranych wyścigach toczyli zacięte boje o 1-sze miejsce.
W pięciu zwyciężył Błażej, a w pozostałych 2-ch Łukasz, co zepchnęło go w klasyfikacji PP na 2-gie miejsce.
3-cie miejsce w dobrym stylu wywalczył Tomek Janiak i takie ostatecznie zajął w rankingu PP.
Zarówno we freestyle jak i debiutującym w PP course racing'u zawodnicy i zawodniczki pokazali się z bardzo dobrej strony i pozostaje mieć nadzieję że w jeszcze lepszej formie zaprezentują się nam w przyszłym roku!
Pobierz wyniki zawodów Jurata 2010 w formacie PDF