Siedzia≥em wczoraj wieczorem po raz kolejny nad pierwszym filmem, który przygotowujÍ do puszczenia w ∂wiat i tak sobie pomy∂la≥em, Ņe warto by≥oby co∂ napisaś na zakoŮczenie sezonu.
Witam, wiÍc wszystkich czytajĪcych, a w∂ród nich swoich kolegów, sympatyków, przyjació≥ tych z wody, z plaŅy, z wspólnych wyjazdów i tych, których nie mia≥em czasu poznaś i po∂wiÍciś im, choś trochÍ czasu.
Kitowanie jest rzeczĪ przyjemnĪ, ale po kilku miesiĪcach, od koŮca maja do 20 wrze∂nia, czasu spÍdzonego na spotach zaczyna siÍ juŅ nudziś. Oczywi∂cie nie dzieje siÍ to nagle. P≥ywaś nie chce siÍ juŅ po kilku dniach ostrego treningu. Ten wstrÍt narasta poma≥u. Czym d≥uŅej siedzisz na spocie tym gorzej siÍ czujesz my∂lĪc o tym, Ņe dzisiaj bÍdzie wia≥o, jutro teŅ bÍdzie wia≥o i tak codziennie, ta sama my∂l. Jak kto∂ mi mówi, Ņe ja nie chodzÍ do pracy, to nie prawda. Na spocie czujÍ siÍ jak w fabryce. Wszystko mnie boli i mam odciski na ≥apach. Typowy objaw przepracowania u kopacza do≥ów kanalizacyjnych.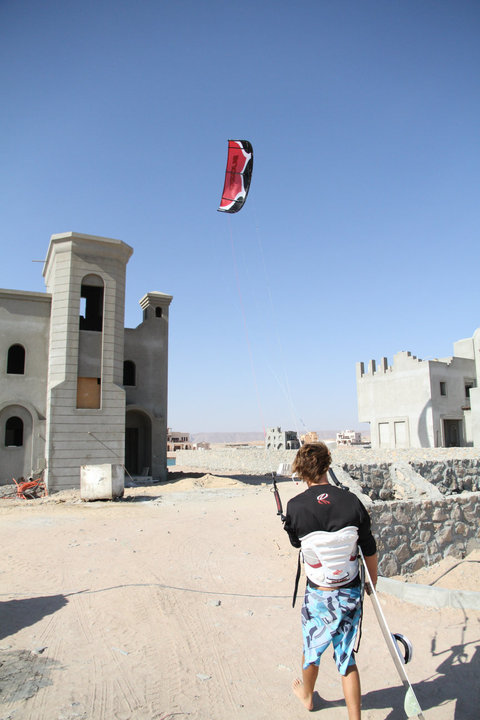 Na zawodach jest jeszcze gorzej. Tym co nie majĪ o tym pojÍcia wydaje siÍ, Ņe my tu przyjechali∂my aby startowaś. Nic mylnego. Co to za starty? Wiatru zwykle nie ma. Pada deszcz.
Sam hit trwa kilka minut i zanim siÍ cz≥owiek zorientuje, moŅe siÍ pakowaś i wracaś do domu.
NagrodÍ odebra≥ kole∂, lepszy. Ten mia≥ fajnie. Trzy dni siedzia≥ w kucki na plaŅy w s≥oŮcu i w nagrodÍ dosta≥ zaproszenie na nastÍpne zawody, podrÍcznĪ torbÍ Naisha, która nie mie∂ci siÍ do luku bagaŅu podrÍcznego samolotu i róŅowĪ chustkÍ na g≥owÍ model 2007, albo pokrowiec na deskÍ 126 cm. Rewelacja. Na Allegro Ņadnego zainteresowania, nawet pies nie chce na tym spaś.
A tak na powaŅnie.
To by≥y piÍkne dni.....Tak jak w piosence. Po miÍdzynarodowej maturze IB, posz≥o bardzo dobrze o studia nie musia≥em siÍ martwiś. Na poczĪtku planowa≥em lans- wystÍpy za granicĪ, gdzie zresztĪ dosta≥em siÍ dosta≥em na kilka uniwersytetów, ale w koŮcu zdecydowa≥em w tym roku na PolitechnikÍ WarszawskĪ. PopatrzÍ jak to wyglĪda i zdecydujÍ, co robiś, studiowaś czy p≥ywaś i studiowaś, a moŅe tylko p≥ywaś, co jest modne w∂ród "PRO". Tak, wiÍc Rodos, na której go∂ci≥em na wystÍpach dwukrotnie. W sumie oko≥o 8 tygodni. Pierwszy wyjazd opisywa≥em w poprzedniej relacji. Drugi by≥ o tyle ciekawszy, Ņe sprawowa≥em opiekÍ medycznĪ, technicznĪ, rodzicielskĪ i instruktorskĪ nad Denisem lat 12, który posiada wrodzonĪ lekko∂ś p≥ywania, co bardzo u≥atwia≥o mi zadanie nauczenia go nowych trików, a poza tym jest niezmiernie opanowany i nie robi g≥upstw, co skutkowa≥o tym, Ņe zabawa w tatÍ nie zajmowa≥a mi zbyt wiele czasu. Co potrafi pokaza≥ na zawodach po przyjeľdzie. Go∂ciu spoko. Trzeba juŅ siÍ baś.
Moje wystÍpy w polskich zawodach w Fordzie oceniam, jako udane. Pokaza≥em, Ņe umiem p≥ywaś.
Nie glebi≥em w Ņadnym hit-cie. PoraŅkÍ z Viktorem traktujÍ, jako swój sukces. Wtedy by≥em, blisko, ale droga jeszcze daleka. Szkoda, Ņe nie by≥o pojedynku z Mareczkiem. Ale moŅe to i dobrze.
Obaj jeste∂my zwyciÍzcami.
Kite Tour Europe to moje pierwsze w tym roku spotkanie z najlepszymi zawodnikami Europy.
Organizacja zawodów wzorowa. CzÍ∂ś zawodników zna≥em z wcze∂niejszych treningów na róŅnych spotach. ZajĪ≥em piĪtĪ pozycjÍ wspólnie z kilkoma kolegami. To niewĪtpliwie sukces.
Czy mog≥o byś lepiej? Chyba nie. Aczkolwiek mój przegrany hit z v-ce mistrzem Niemiec móg≥ wyglĪdaś inaczej. Zna≥em Permiena z filmów. Repertuar trików sta≥y, perfekcyjnie wykonany z ilo∂ciĪ, co najmniej 12 hp w hicie. Zaryzykowa≥em. Plan by≥ prosty. BiorÍ na pierwsze minuty wiÍkszego kita 11, robiÍ podwójnego.., zmieniam na kita 9 i mam go na widelcu. Niestety. Trzy próby podwójnego skoŮczy≥y siÍ klapĪ. MoŅe przesadzi≥em z tĪ 11. By≥o duŅo wiatru. A moŅe zabrak≥o mi jednego tygodnia treningów na Rodos. Tak czy siak przegra≥em. Bez Ņalu.
Ostatnie 3 tyg. wakacji spÍdzi≥em w ElGounie. Mam sentyment do tego miejsca. Dobrze czujÍ siÍ w bazie u Zimasa. Jak w domu. Tradycyjnie juŅ duŅo wiatru i fajna atmosfera. Oczywi∂cie trening na pierwszym planie, ale skoro juŅ po zawodach to moŅna by≥o trochÍ wyluzowaś. StĪd pomys≥ na film, który zrodzi≥ siÍ wraz z obecno∂ciĪ w ElGounie Olivera, którego pozna≥em na Rodos. Tu przy okazji tworzenia filmu okaza≥o siÍ, Ņe nie jest to takie proste. A to za duŅo wiatru, a to za ma≥o, a to za p≥ytko, z≥e o∂wietlenie itp. Na pewno nie jest to ca≥y asortyment moich umiejÍtno∂ci, ale zapewne jest co∂, czego nie muszÍ siÍ juŅ wstydziś.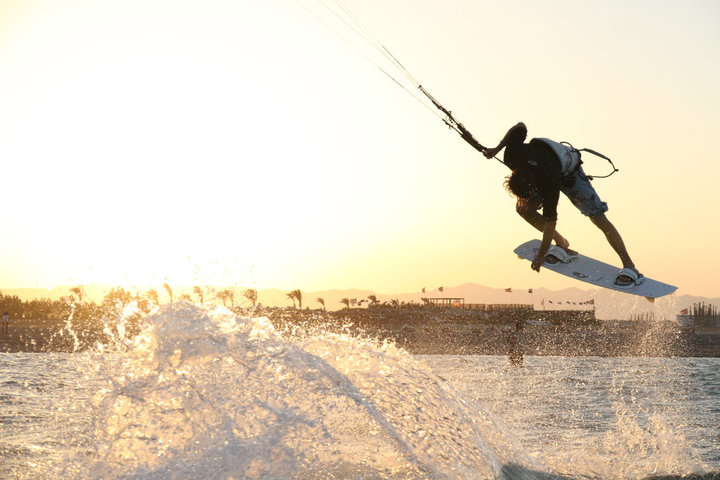 W tym sezonie p≥ywa≥em na Ozone i Xenonie. Ca≥y sezon katowania sprzÍtu i tak naprawdÍ jest on w doskona≥ym stanie. Co prawda pÍk≥a mi linka przy kiteloopie, ale naprawdÍ by≥y to mega wystÍpy i tak prawdopodobnie mia≥a uszkodzenie w wyniku kilku splĪtaŮ siÍ z innymi kitami na Rodos. Wymiary 7,9,11 i 13 spe≥niajĪ moje oczekiwania choś w Polsce na zawodach odczuwa≥em brak 15 lub 17 , którĪ poŅycza≥em od ¶wistaka. Moim zdaniem gdybym mia≥ trenowaś na Zatoce to 17 by≥aby podstawowym kitem. Oczywi∂cie sĪ opinie, Ņe najwiÍkszy kite to 12, ale ja ich nie podzielam. Ozone 17 to ∂wietny kite do trenowania fristajlu przy s≥abym wietrze. Szybki, stabilny, dobrze trzyma profil i szybuje. Xenon jest stworzony dla mnie. Mojej wagi i stylu p≥ywania. Posiada wymiar, sztywno∂ś, ≥atwo∂ś odklejania siÍ od wody lekko∂ś po≥Īczona z delikatno∂ciĪ prowadzenia i stabilno∂ciĪ przy duŅej prÍdko∂ci. NaprawdÍ moŅna to oceniś. Trzeba tylko sporo na niej pop≥ywaś i zadawaś sobie pytania szukajĪc równocze∂nie odpowiedzi.
Co dalej? P≥ywa≥em juŅ w ostatnim tygodniu na nowym Xenonie, takŅe liczÍ, Ņe bÍdÍ mia≥ sponsora na nastÍpny rok, tym bardziej, Ņe reklama, Xenona w Kiteword zosta≥a przyjÍta pozytywnie, co jest tez mojĪ niewielkĪ, ale zas≥ugĪ. Czy Ozone zrobi voltÍ i poszuka innego ridera.
Tego nie wiem. Ale jak siÍ dowiem to Wam napiszÍ.
Tomek Dakti Daktera