Dwa dni przed, wyjazd na zachód stał pod dużym znakiem zapytania. Smokie, stwierdził, że nie da rady w tym terminie ruszyc, poza tym bardziej chce wyruszyc do Danii niż do Amsterdamu, maj±c ¶wiadomo¶ć czym pachnie taki wyjazd. Tym bardziej, że jednym z uczestników ma być Janek Korycki aka Purple Haze. Kilka miesięcy temu spotkawszy Janka napomkn±łem mu o pomysle wyjazdu do Danii. Janek z miejsca powiedział, że możemy jechać razem, ale musimy zahaczyć o Holandie. Tydzień przed wyjazdem okoliczno¶ci sprawiły że wszystko stało pod dużym znakiem zapytania.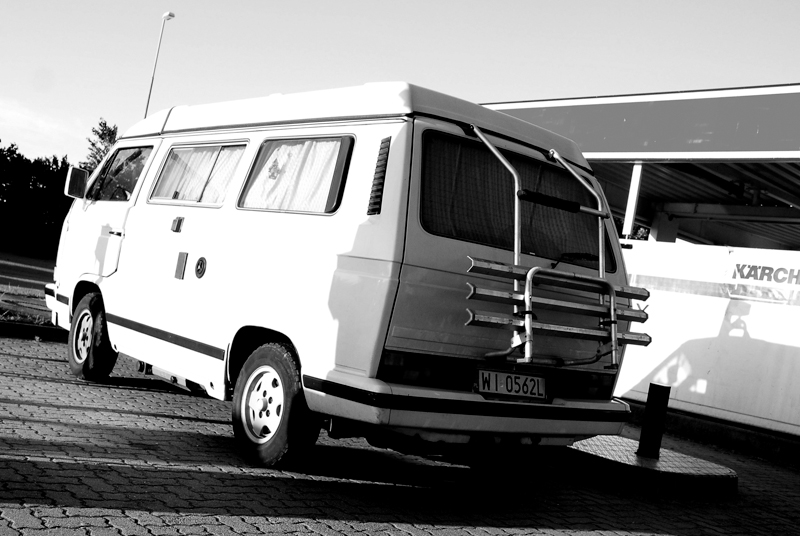 Na szczę¶cie udało się, bez planu, ale się udało. Ze Smołkim spotkali¶my się na campingu Małe Morze na półwyspie, gdzie dojechali¶my z Janem naszym cudownym 23 letnim VW T3 westfali±. Warto wspomnieć, że "biały mi¶" jest jednym z ważniejszych elementów wyprawy. Jest głównym pojazdem transportowo, sypialno, gastronomiczno, sanitarnym. Do tego leci z nami jego młodszy braciszek, kombiaczek Audi a4, z Michciem na pokładzie, który jako ¶wieżo upieczony Pan młody postanowił w kawalerskim towarzystwie wyruszyć w stronę słońca. Dokładniej mówi±c naszym planem jest zachód, docelowo Amsterdam, może odwiedzimy miasto Harlem i Roterdam.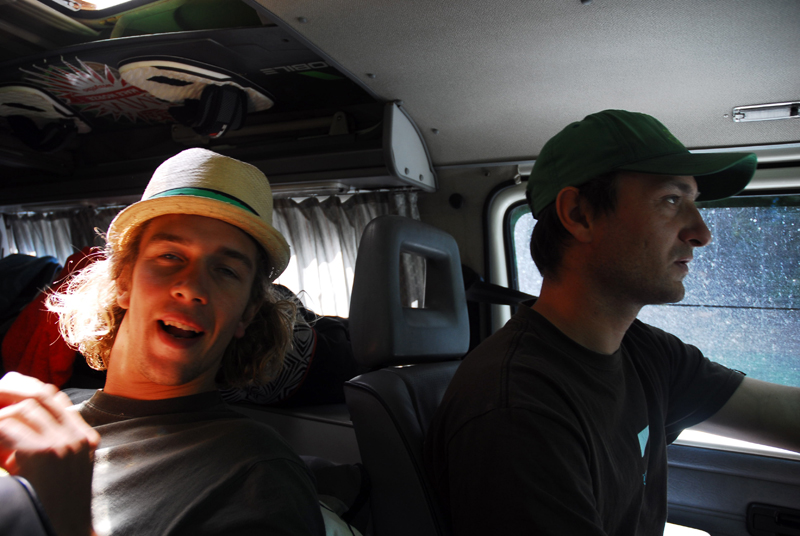 Pierwszym przystankiem naszej podróży była wyspa Uznam, gdzie dotarli¶my poĽnym popołudniem. Na plaży przy wiatraku spotkali¶my braci Maciejewskich z Kiteteamu.pl. Trafili¶my również całkiem niezłe warunki wiatrowe i pogodowe. Słońce ¶wieciło od rana a przez cał± drogę Westfalk± bujała się na lewo i prawo od podmuchów wiatru. Janek wyskoczył z 9m sigm±, Smołki wyszedł z 11m instynktem. Akwen na spocie jest zasłonięty od wschodniej strony betonowym falochronem, dzięki czemu przy wschodnich kierunkach woda jest mniej pofalowana. Nie można powiedzieć, że jest płaska, ale jak na otwart Bałtyk to jest to jedno z niewielu miejsc z tak± charakterystyk±.

Po krótkiej sesji wyruszyli¶my dalej na zachód. Po przekroczeniu granicy niemieckiej. Naszym celem była wyspa Rugen. Przyroda niczym nie różni się od pobrzeża polskiego z tym wyj±tkiem, że jest znacznie więcej domków krytych strzech±, a o drogach nie będę wspominał. O zmroku przejechali¶my most ł±cz±cy miasto Straslund z wyspa Rugen. Zaparkowali¶my w północnej czę¶ci wyspy za miejscowo¶ci± Glowe. Rano okazało się że parking jest zaraz obok gigantycznego osiedla pięciopiętrowych wielkich bloków, poł±czonych jeden z drugim. Cały pas bloków, położonych wzdłuż wybrzeża mógł mieć ok. 1 km. Bloki wygl±dały na przedwojenne. Cały kompleks był opustoszały i nieużytkowany od wielu lat. Co się tam mie¶ciło, niewiadomo, może wielki o¶rodek w nadbałtyckiej miejscowo¶ci dla podstarzałych emerytów, może o¶rodek wypoczynkowy dla ludno¶ci chłopskorobotniczej z DDR… nie wiemy.

Po porannym przepakowaniu, które zajmuje nam ok. 30 min. Zasiedli¶my w busie, Łukasz przekręcił kluczyki, a tu…NIC. Pierwsza mysl… Klemy i na kabelki. Niestety w Niemczech mało kto my¶li o tak barbarzyńskich sposobach na odpalenie auta. Po chwili zastanowienia przełożyli¶my 2 akumulator zasilaj±cy lodówkę itp. I udało się.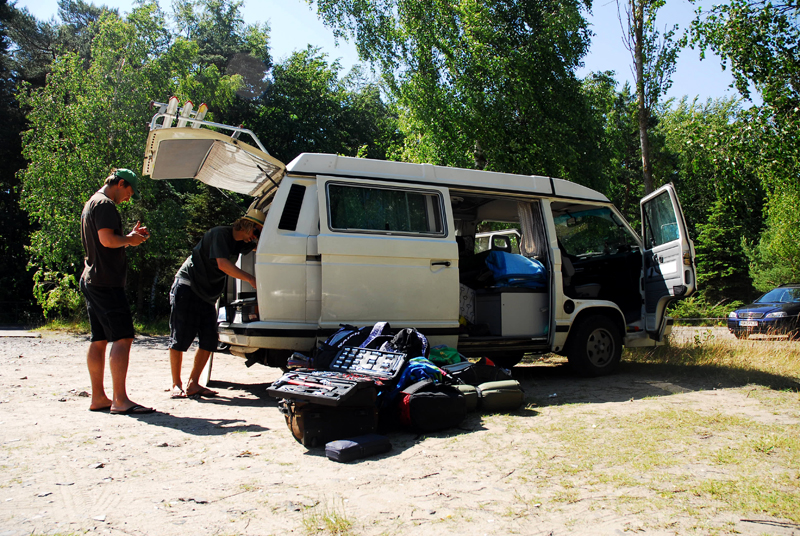 Przepakowywanie zajęło nam kolejne pół godziny, ale ruszyli¶my. Pogoda piękna, czas wyruszyć z misj± w poszukiwaniu bankomatu, a póĽniej na spot. Przejechali¶my cał± północn± czę¶ć wyspy od Glowe przez Juliusruh, Putgarten, aż do Kreptiz. Byli¶my na dwóch plażach po północno zachodniej stronie od Putgarten. Wybrzeże jest klifowe ze stromym zej¶ciem i kamienist± plaż±. Bardzo malowniczo, ale do pływania s± to złe warunki.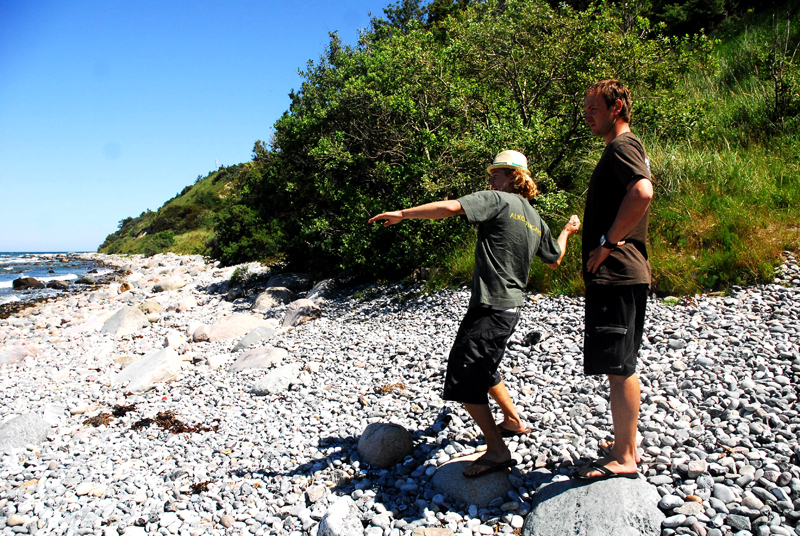 Zdecydowanie najlepszym miejscem do pływania tego dnia, była plaża niedaleko bloków po północnowschodniej stronie wyspy.Ta czę¶ć wybrzeża znajduje się na w±skim pasie l±du między morzem i jeziorem Jasmunder. Plaża na spocie była szeroka, bardzo podobna do plaży w np. Dębkach z szerokim pasem wydm poro¶niętych ostrymi trawami. Dodatkow± atrakcja były niemieckie golasy w dużej liczbie wyleguj±ce się na plaży. Jednak główn± atrakcja były fale, które tego dnia dochodziły do 2 metrów. Po przej¶ciu przez długi pas przyboju można było trafić na naprawdę ładnie łami±c± się, dług± falę. Janek był bardzo zadowolony, cały wieczór pływał na surfingowej desce zawijaj±ca w tę i z powrotem.
Po Sesji ruszyli¶my w poszukiwaniu Campingu. ZnaleĽli¶my go po drodze na zachód w miejscowo¶ci Zirst… Piękny niemiecki camping, z basenem, saun±, fryzjerem, i przepięknymi toaletami. Niemiecka oaza spokojnego luksusowego karawaningu.

WWW VW crew