III runda tegorocznego Pucharu Polski i Mistrzostw Polski w kitesurfingu Ford Kite Cup już za nami.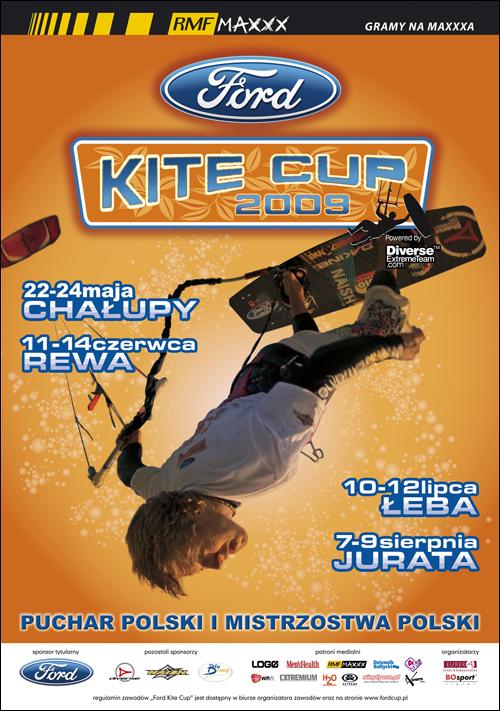 W dniach 10 -12 lipca na plaży zachodniej, w Łebie odbyły się już trzecie w tym roku eliminacje do Pucharu Polski w kitesurfingu FORD KITE CUP.
Główną konkurencją był Freestyle, oceniany według zasad obowiązujących na światowych zawodach PKRA. Dodatkowo rozgrywany był również Wakeboard, czyli pływanie na desce za motorówką.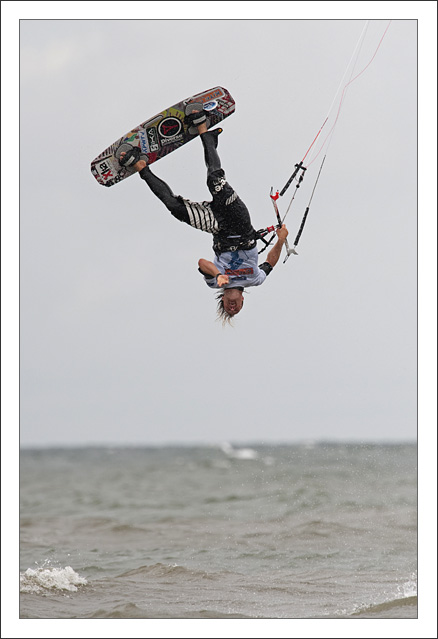 Trzecia edycja tegorocznych zawodów Ford Kite Cup w Łebie zapowiadała się bardzo ekscytująco z kilku powodów.
Po pierwsze: po wielu latach nieobecności na polskich zawodach do Łeby zawitała Ania Grzelińska, Mistrzyni Świata 2008 KPWT. Po drugie: wielu zawodników przed tą edycją bardzo intensywnie trenowało na wodach Egiptu, Grecji i Hiszpanii. Wreszcie po trzecie: zawody w Łebie mogły rozstrzygnąć losy Pucharu Polski. Jednak pierwszy dzień upłynął w oczekiwaniu na wiatr, który wiał z niedostateczną siłą i przeważnie lekko od brzegu. Nawet popołudniowa bryza była zbyt słaba i niewystarczająca do rozgrywania zaplanowanych konkurencji.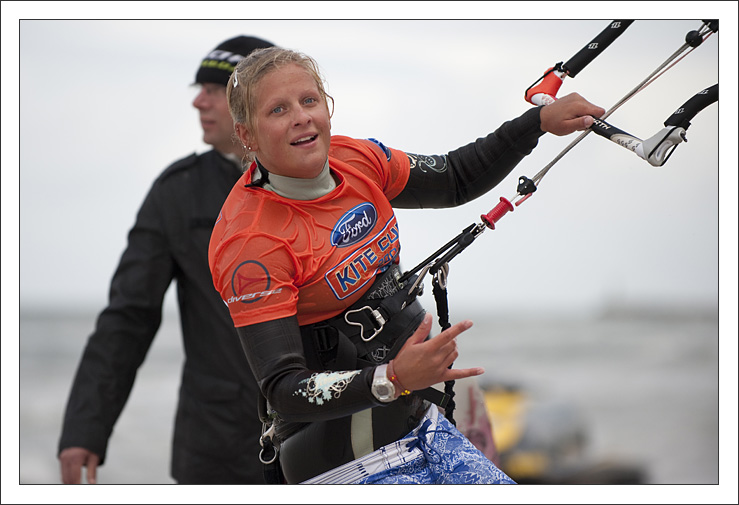 Sobotni poranek drugiego dnia zawodów również rozczarował brakiem wiatru, a w dodatku był pochmurny i z lekkim deszczem. W tych warunkach zawodnicy umilali sobie czas konkurencją wakeboard i ćwiczyli pływanie na "stand up paddle boards", czyli największych deskach do surfingu, na których pływa się stojąc i napędza je wiosłem. Wszyscy, którzy tego spróbowali mieli mnóstwo zabawy i z pewnością niejeden raz jeszcze będą na nich pływać, najlepiej na większych falach.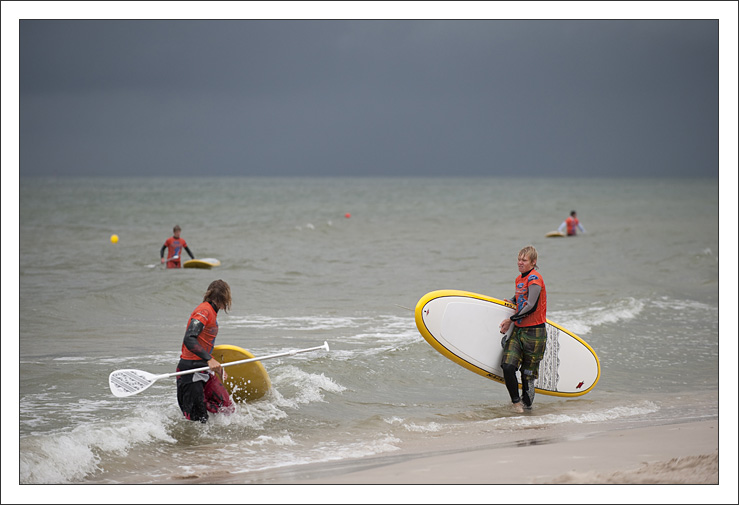 Po ok. 40 minutach wiatr jednak odkręcił do pożądanego, zachodniego kierunku i od razu zaczął wiać z siłą 14-20węzłów.
Decyzja mogła być tylko jedna: freestyle. Zawodnicy błyskawicznie przygotowali sprzęt i wypłynęli na rozgrzewkę, ruszyły pierwsze zaplanowane heat'y.
Pierwszym z zaplanowanych pojedynków był heat juniorów, w którym Asia Litwin kilkoma trudnymi technicznie hp'kami bezdyskusyjnie wypunktowała Michała Maciejewskiego i zwyciężyła w tej kategorii.
Następnie bardzo ciekawy i zacięty pojedynek stoczyli mastersi, którzy prezentowali bardzo różne style i odmienną skuteczność ich wykonania. Ponownie zwyciężył Tomek Janiak, ale mocno tym razem naciskał old school'owymi trikami Marek Rowiński Senior, który ostatecznie uplasował się na drugim miejscu. Trzecie zajął Tomek Lebecki.
Kolejnym pojedynkiem był szlagierowo zapowiadający się heat Pań. Wszystkie przystąpiły bardzo skoncentrowane i podziwiać można było ich wspaniałe umiejętności i styl. Przy wietrze 18-20 węzłów bardzo trudnymi trikami Asia Litwin próbowała zyskać przewagę nad konkurentkami. Perfekcyjnie wylądowane bj, bj3, slim chance, nis, raylee to blind i kilka jeszcze mniejszego kalibru dodawały jej z każda minutą animuszu. Karolina Winkowska odpowiedziała równie mocnymi trikami jak bj, slim, s-bend pass jednak wykonanymi z dużo większą mocą w latawcu i w dodatku wyżej od swojej konkurentki. Również Ania Grzelińska i Wiktoria Boszko zaprezentowały bardzo wysoka formę i ogromne umiejętności techniczne i taktyczne. Ich triki (w tym raylee to wrapped, surface pass i raylee to blind sp ) nie były tak trudne jak Karoliny i Asi, ale wykonywane z równie dużą mocą i bezbłędnie lądowane. Ostatecznie nieznacznie wygrała Karolina, na drugim miejscu znalazła się Asia, na trzecim Ania, która ostatecznie pokonała Wiktorię.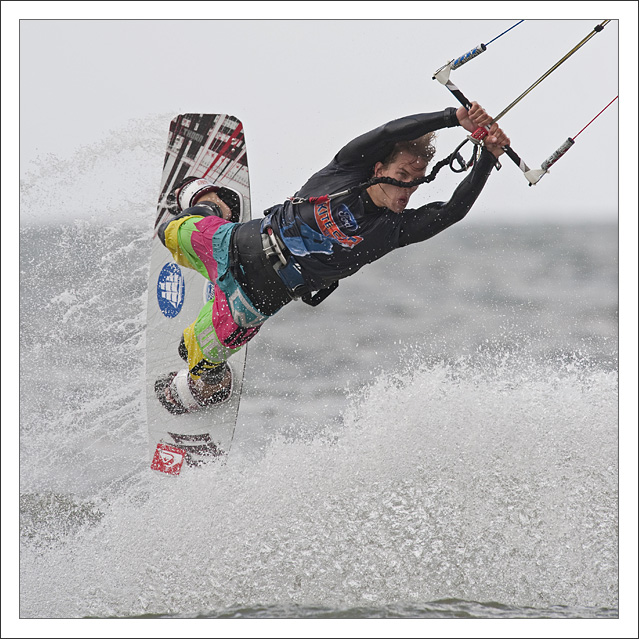 Następnie do walki przystąpili Panowie i od pierwszych pojedynków widać było, że może to być dzień pełen niespodzianek. "Młodzi gniewni" nie zmarnowali czasu od ostatnich zawodów i mocno zaatakowali dotychczasowych faworytów.
Tomek Daktera, zawodnicy "Kite teamu" ze Szczecina i po raz pierwszy w tym sezonie startujący Michał Malinowski coraz mocniej naciskają faworytów w każdym heat'cie. Z kolei spore kłopoty z odnalezieniem formy mają w tym roku Łukasz Ceran i Marek Zach, który z racji niższego miejsca w rankingu od razu w pierwszych rundach musi mierzyć się z zawodnikami rozstawionymi, co zdecydowanie nie ułatwia mu zadania. Już w drugiej rundzie Marek musiał zmierzyć się z Maćkiem Kozerskim i po zaciętej walce odpadł z dalszej rywalizacji. Na podobnym etapie odpadł Łukasz Ceran, przegrywając heat z Łukaszem Maciejewskim, który bardzo solidnie prezentował się tego dnia. Kl hp w jego wykonaniu miał ogromną moc, co zrobiło bardzo dobre wrażenie na sędziach. Kolejnymi trikami utrzymał wysoki poziom i zasłużenie zwyciężył z "Księciem".
Pojedynki ćwierćfinałowe to starcie zdeterminowanych "młodych gniewnych": Daktery, Łukasza Maciejewskiego i Michała Malinowskiego z "regatowymi wyjadaczami": Jankiem Koryckim, Maćkiem Kozerskim i Victorem Borsukiem, które 2:1 na swoją korzyść rozstrzygnęli "regatowi wyjadacze". Maciek obronił się dzięki większej różnorodności zaprezentowanych trików przed szarżą Łukasza Maciejewskiego, którego moc budzi respekt, ale brak mu jeszcze regularności. Również Victor nie dał szans Michałowi, który chyba użył za małego latawca, bo zbyt często brakowało mu mocy. Jedynie Jankowi nie udało się obronić przed atakiem Tomka Daktery, który wykonał bardzo dynamiczne wysokie i przy tym trudne techniczne i różnorodne triki. Ostatni z ćwierćfinałowych pojedynków odbył się miedzy kolegami z "kite teamu" Mateuszem Derletą i Markiem Rowińskim Juniorem. Zalety obu są znane: Mateusz to bogaty repertuar trików i spokój w ich wykonaniu, natomiast Marek to żywioł i "pełen ogień", z którym podchodzi do wszystkich wykonywanych skoków. Jego triki, o ile są wylądowane, na wszystkich robią największe wrażenie z racji szybkości i mocy z jaką Marek je wykonuje. Tym razem nie udało mu się ich wylądować i zwycięzcą został Mateusz, który swój pokaz wykonał spokojnie i bardzo pewnie.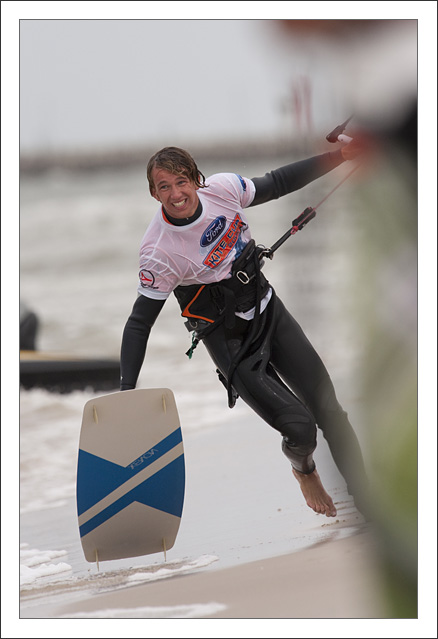 W półfinałach Tomek Daktera nie zmarnował swojej szansy i dzięki większej różnorodności zaprezentowanych ewolucji pokonał wicelidera PP Macka Kozerskiego. Tomek swoje niektóre triki robił tak wysoko i dynamicznie, że miał mnóstwo czasu aby dołożyć jeszcze jakiś element, co świadczy o jego dużych możliwościach. Jeśli tylko nad tym popracuje to niedługo jest w stanie zaprezentować zdecydowanie trudniejsze triki, co jest jasnym sygnałem ostrzegawczym, szczególnie dla Macka i Victora, że muszą się mocno sprężyć podczas kolejnych zawodów i treningów.W drugim półfinale Victor nie pozostawił złudzeń Mateuszowi kto zasłużył na finał.
Pojedynek finałowy to popis mocno skoncentrowanego Victora, który wypunktował perfekcyjnie wylądowanymi trikami jak: 313, front i back mobe, kl hp, KGB, bj. Tomek, mimo ładnego stylowo i zróżnicowanego technicznie pokazu nie był w stanie jeszcze zagrozić Victorowi, choć zdecydowanie zmniejszył dystans jaki go jeszcze niedawno do niego dzielił.
Niestety pojedynek Maćka i Mateusza o trzecie miejsce pozostał nierozstrzygnięty, ponieważ wiatr nieoczekiwanie osłabł i nie pozwolił już na dokończenie go.
Przed pojedynkami finałowymi odbył się jeszcze jeden pojedynek Kobiet i stał on na jeszcze wyższym poziomie niż wcześniejszy. Dziewczęta zaprezentowały po 7-9 trików, bardzo widowiskowych i jednocześnie trudnych technicznie. Nie było jeszcze w Polsce stojącego na tak wysokim poziomie pojedynku wśród Pań! Ponownie zwyciężyła Karolina, głównie dzięki bardzo dużej dynamice i mocy jaką miała w latawcu. Jej s-bend pass może służyć za wzór jeśli chodzi o ten trik. Bj i slim również były popisowe. Asia ponownie nie poddawała się do samego końca i wylądowała bezbłędnie wszystkie swoje triki, w tym, bj, bj3, slim, back mobe, ale na tak dysponowaną Karolinę to nie wystarczyło. Wiktoria ponownie z ogromną determinacją walczyła z Anią, a o tej ogromnej determinacji przekonali się wszyscy widzowie, kiedy płynąc z pełną prędkością zrobiła dynamicznego bj z lądowaniem 2m od plaży. Niestety, nie udało jej się utrzymać latawca.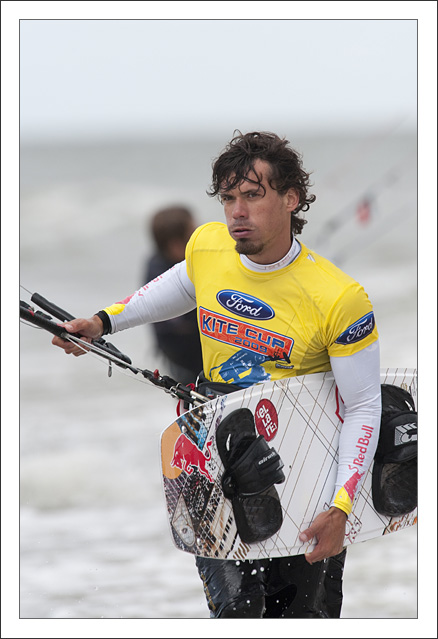 Do tej trójki wspaniale dostosowała się umiejętnościami Ania i bardzo pewnie wykonała swój program, w tym dynamiczny kl i raylee to wrapped sp. Po bardzo wyrównanym pojedynku z Wiktorią zwyciężyła ponownie Ania i zajęła trzecie miejsce.
Takie wyniki zapewniły już zwycięstwo w swoich kategoriach Pucharu Polski Victorowi i Karolinie, a także Tomkowi Janiakowi w Mastersach. Pozostałe miejsca, a także PP juniorów są jeszcze sprawą otwartą.
Ostatnia edycja, która odbędzie się w Juracie, da nam odpowiedź na te pytania, a także wyłoni Mistrzów Polski w konkurencji Freestyle oraz Wave Performance. Z niecierpliwością czekamy na ostateczne rozstrzygnięcia oraz na to, co pokażą nam zawodnicy i zawodniczki po kolejnych treningach, które do tamtych zawodów odbędą. Walka zapowiada się niezwykle ciekawie!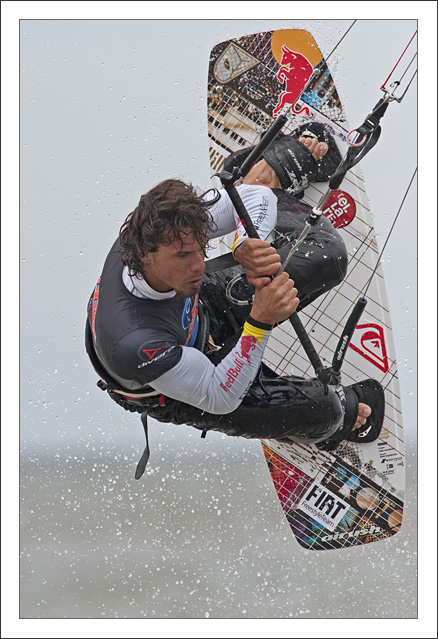 Wyniki Pucharu Polski Ford Kite Cup w Łebie 2009
Freestyle-Mężczyźni:
1.Victor Borsuk
2.Tomek Daktera
3.Maciek Kozerski
3.Mateusz Derleta
5.Janek Korycki
5.Łukasz Maciejewski
5.Marek Rowiński Jr.
5.Michał Malinowski
Freestyle -Kobiety:
1.Karolina Winkowska
2.Asia Litwin
3.Ania Grzelińska
4.Wiktoria Boszko
Freestyle -Masters :
1.Tomasz Janiak
2.Marek Rowiński Sr.
3.Tomasz Lebecki
4.Marcin Maciejewski
5.Ryszard Derleta
Freestyle - Junior:
1.Asia Litwin
2.Michał Maciejewski
Następna edycja FORD KITE CUP już 7-9 sierpnia w Juracie. I będzie to edycja mająca rangę Mistrzostw Polski.
Serdecznie zapraszamy !

Więcej informacji dostępnych jest na oficjalnej stronie zawodów www.fordcup.pl
Zdjęcia: Łukasz Nazdraczew/Eureka