Pamiętam I Mistrzostwa Polski Race z zeszłego roku. Ponieważ zawody były otwarte zjechała się kupa mniej i bardziej doświadczonych chłopaków i dziewczyn. Przeważały tt, były 4 deski race . Ja startowałem na tt i desce wave. Ilość biegów ogromna jak dla mnie. Ale jakoś dałem radę.
Pamiątką z tych zawodów są niezwykle cenne dla mnie 4 medale i pozycja 7 w kategorii open.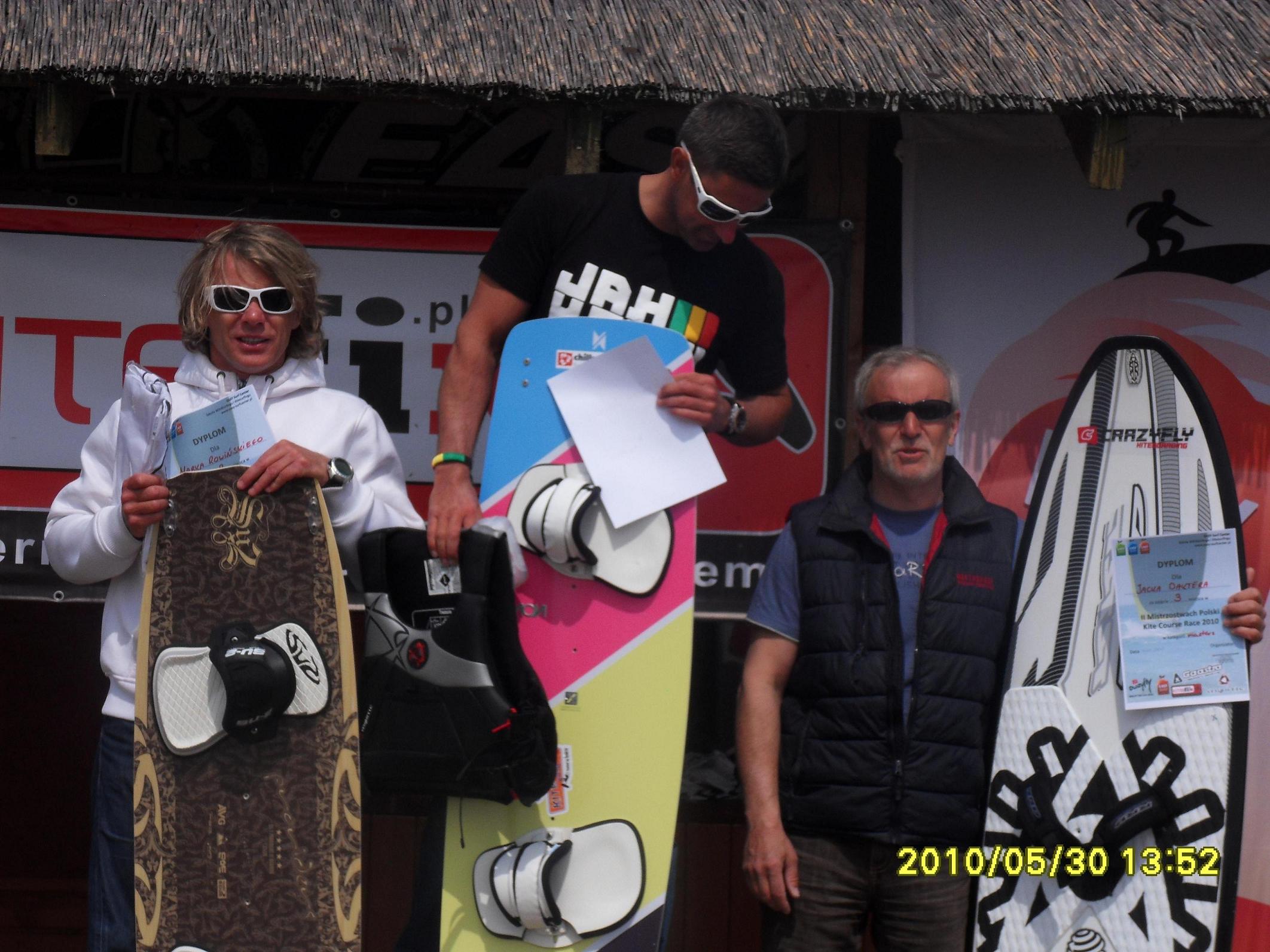 W tym roku nie było gorzej jeśli chodzi o wynik. 6 pozycja w Pucharowych II Mistrzostwach Polski i 23 pozycja w KTE Race w Świnoujściu. Natomiast z nagrodami katastrofa. A na to szczególnie liczyłem. Z zawodów krajowych nie przywiozłem dosłownie nic poza gratulacjami od mojego historycznego rywala Marka Kapitana BraCuru. W Świnoujściu było trochę lepiej. Fotka na zakończenie i została mi koszulka startowa z nr 24. Ale została również satysfakcja z uzyskania moim zdaniem super wyniku, zarówno w zawodach w Polsce, jak i w KTE.
Łatwo jest psioczyć w postach i udowadniać w nich bezsens wyścigów . Wymaga odwagi poddanie się trudom rywalizacji. Pozycja Błażeja, Księcia, czy Niebrzydkiego są fantastycznym osiągnięciem.
Nie jest prawdą, że to łatwe pod względem technicznym nie mówiąc o taktycznym. Wojtek Brzozowski trenuje od kilkunastu lat z grupą mistrzowską w Łebie ścigając się wspólnie kilka razy dziennie. U nas jest to niemożliwe. Brak chłopaków do ścigania się i przede wszystkim brak sprzętu dla potencjalnych zawodników. Nie można możliwości sprzętowych zawodników z Francji, Holandii, czy Danii porównywać z tymi nam dostępnymi. Jeśli Księciu chcąc się ścigać sam robi sobie deskę , a Niebrzydki z trudem dopasowuje stateczniki windsurfingowe do przypadkowo kupionego customa musi znaczyć, żę ich wynik jest rewelacyjny. Nie pytam co byłoby gdyby nasi chłopcy mieli najnowszy sprzęt Cabrinha przeznaczony właśnie do wyścigów tak jak ich rywale. Ale wiem, że wtedy i ja byłbym na pewno kilka pozycji bardziej do przodu.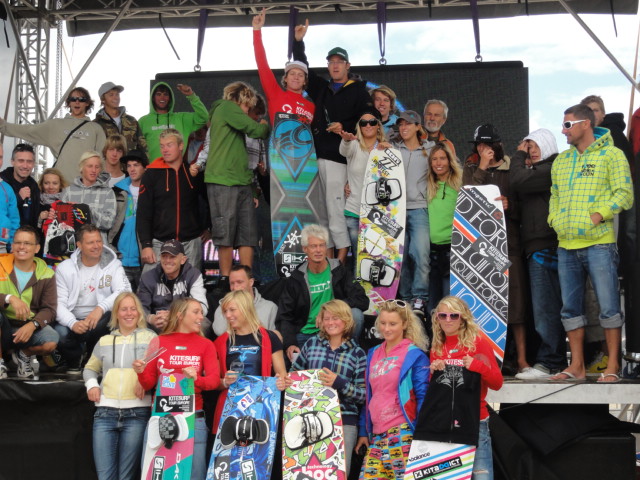 Deski Race umożliwiają ostrą jazdę już od 8 węzłów. Może to się wydawać dziwne, ale przy takiej sile wiatru rozgrywają się zawody i możliwa jest normalna halsówka.
W tym roku ścigałem się na RRD Race 180x50 model z zeszłego roku i Ozone Edge 13m2 z przedłużonymi o 6m linkami. Świetna deska, ale świat poszedł do przodu. Obecne deski Race jadą tylko prosto i nieprzytomnie ostro. Przy nich moja deska płynnie wolno i mało ostro do wiatru. Ale za to robi zwroty i zakręty tylko , że tu nie o to chodzi. Tak więc uznaję, że wybór deski jest tu zasadniczym elementem gwarantującym chociaż kontakt wzrokowy z czołówką zawodników . Bo prawda jest taka, że przypływałem na 20 minutowej trasie około 8 minut po pierwszym zwycięzcy. Już na pierwszym zwrocie potrafilem spaść z wysokości ponad 100 m. Ale no właśnie. Było tak, że gdy siła wiatru wzrosła do około 15 i więcej węzłów szanse zaczęły się wyrównywać .Ozone EDGE 13 ciągnął z tak nieprzytomna siłą pod górę, żę wreszcie zacząłem mieć kontakt z głównym peletonem. Obserwując konstrukcje Edge łatwo zauważyć, że jest to kite przeznaczony do wyścigów. Konstrukcja kształtu , wzmocnienia, sztywność latawca i mała średnica tuby głównej wskazują na preferencje w jego użytkowaniu.
Niestety Ozone nie produkuje Edge w wymiarze 16 m2 w tym roku. Tym samym trudno walczyć z sukcesem z zawodnikami pływającymi podczas wyścigów na 16 lub 18.Uznaję za podstawową opcję posiadanie kita 16 m2 przeznaczonego do race.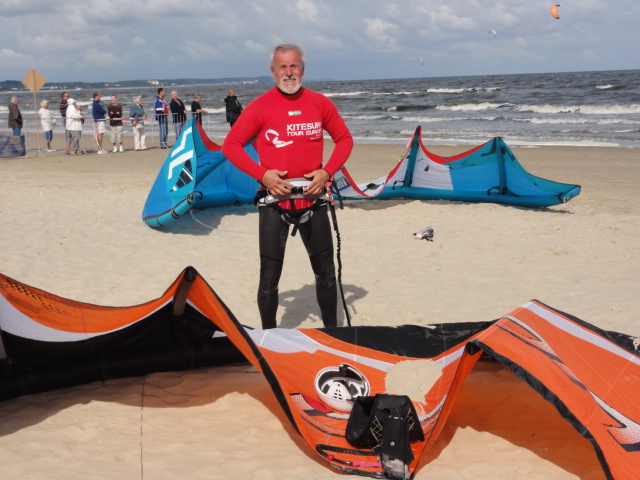 Szansa na sukces jest więc bardzo prosta. Trzeba mieć dodatkowo talent.
Jacek Daktera