Wyrwałem Laskę na wczasy.
Kitowanie to zabawa dla dzieciaków. Prawdziwi mężczyźni ( +18) nie myślą tylko robią, co chcą.
Ja wbrew Rodzicom, szkole i szalejącym fankom wyrwałem Laskę na wczasy. Pozbawiony pieniędzy i znajomości innych miejsc do wczasowania wybrałem urocza, znaną mi miejscowość, dzie kobiety są zawsze ciepłe. Liczyłem, że Laska też. Tym bardziej, że smukła sylwetka, długie blond włoski i modne ciuszki nie idą w parze z charakterkiem. Tak, więc samolocik, taksówka, nówka chata i czas do łóżka. Targanie gratów za Laskę po lotnisku itd. wykończyło mnie troszkę. Rano Laska chce spać. Ja do sklepu, bułeczka, pomidorki, szprotki niestety w puszce, soczek. Ja do Laski. Znowu draka. Idę pływać, pozostaje mi szukać krążącego zapewne w okolicy rekina. Sam nie wiem, co lepsze spotkanie z żarłaczem czy wieczorne spotkanie z Laską. Na szczęście Laska wie, co ma robić. Wieczorny wypad do Hurgady po gwoździe, śruby, plastikowe płyty itp i jest ok.
Pobudka wcześnie rano i do roboty. Kitowanie i śrubokręt, kitowanie i wkręcanie itd. Na szczęście
doszlusował do nas Mareczek i na 3 młotki, śrubokręty, piły i pomaturalne mózgi udało nam się zatopić coś co miało być prototypem slajdera, a przynajmniej dla kitowego jeźdźca przypominało konia trojańskiego w hard corowej wersji.
Niestety nie każdy urodził się artystą jak Oliver, który doleciał do nas z Monachium. Liczyłem na to że znowu wyczaruje z naszego pływania trochę materiału, z którego gdyby udało się złożyć jeden hit byłoby grubo. Grube to były za to nasze pianki. Cieszę się, że Oliver znalazł tak szybko czas, aby z nakręconego materiału wyreżyserować już kolejny dla mnie film.
Było pięknie. ReadSeaZone tradycyjnie przyjęło nas bardzo ciepło. Wspólna Wigilia prawie jak w domu. Wiaterek mimo marnych prognoz dopisywał, a dwa dni luzu w ciągu 12 dni dobrze nam zrobiło. Towarzystwo Miłosza Laski ,Olivera i Mareczka dodawało dużo entuzjazmu . Szkoda, że musiało się to skończyć. Tradycyjnie już pozostały wspomnienia i krótki film do waszej dyspozycji.
tekst: Tomek Daktera (Ozone, Xenon, Reef, Red Sea Zone)
Cześć!
W te święta wybrałem się do El Gouny. Głównym powodem takiego wyboru były niewyobrażalnie wysokie ceny biletów do takich miejsc jak Brazylia, czy Wenezuela. Z drugiej strony tam pewnie pojechałbym zupełnie sam, a w Egipcie czekali już na mnie Dakti i Laska oraz całe Red Sea Zone. Atmosfera była bardzo przyjemna, jak na zimę z wiatrem też nie było najgorzej.
Przez dwa tygodnie pływaliśmy jakieś 7 dni, przy w sumie całkiem dobrych warunkach (nie było to takie męczenie się na trzynastce). Po kilku dniach przyjechał do nas jeszcze Olivier (od NonAim pictures) i nasza wesoła drużyna była w komplecie. Ulokowaliśmy się w małym mieszkaniu położonym w samym centrum miasta. Zaraz za drzwiami mieliśmy mały supermarket, a przez okno w sypialni zamawialiśmy sobie sziszę z pobliskiego baru. Po przejściu przez jeden mostek i plac łapaliśmy codziennie tuk tuki i jechaliśmy do bazy. Tam przez pierwszy tydzień zajmowało nas głównie pływanie, bo wiatr naprawdę dopisywał.
Trzeba przyznać, że ciężko mi było przypomnieć sobie te wszystkie tricki i przyzwyczaić do nowych kite'ów po trzymiesięcznej przerwie w pływaniu. Co gorsza miałem dodatkowo problemy ze stopą- uszkodziłem ją sobie na zlocie trickingowym (Warsaw Trixmas Gathering) i naprawdę musiałem uważać przy każdym lądowaniu. Dostałem od SU2 dwie deski do przetestowania- nowe modele na 2011. Jak się spodziewałem najbardziej spodobał mi się nowy prorider. Jest chyba jeszcze lżejszy niż poprzedni i pływa się na nim świetnie. Miałem takie przyjemne uczucie, że deska jest bardzo sprężysta i przy porządnym dociśnięciu odwdzięczała mi się mocnym popem.
Wieczorem obijaliśmy się jak wzorowi turyści z Rzeszowa. Oglądaliśmy trochę filmów, robiliśmy spacerki po El Gounie albo gotowaliśmy. Ja z Daktim żywiłem się w 80% ryżem i wyznawaliśmy regułę, że posiłek bez ryżu to posiłek stracony. Laska budował z naszą pomocą box, który możecie zobaczyć na jego filmiku (był na kiteforum). Ja z Daktim pływałem trochę pod kamerkę Oliviera, ale w sumie nie mamy chyba ujęć z bardzo dobrymi trickami (przynajmniej ja). Jakoś dużo się zapomniało przez jesień i lekko kaleczyłem na wodzie. Jednak żeby trzymać cały czas dobry poziom trzeba dużo pływać. Tak, w dosyć szybkim tempie przeleciał nam pierwszy tydzień.
Próbowałem z Daktim zagrać w KITUSURF'a, czyli kiteowy odpowiednik SKATE'a z deskorolki (powtarzasz trick, jeżeli się nie uda to dostajesz literkę- przegrywa ten co uzbiera całe słowo). Doszliśmy do połowy (prowadziłem jedną literką) i już tak się namęczyliśmy, że trzeba było zrobić przerwę. A był to ostatni dzień dobrego wiatru, więc nie dokończyliśmy grać już potem. Bynajmniej Dakti rozwalił mnie backrollem z blinda, blind judgem z blinda i takim dziwnym popem. Ode mnie nie powtórzył np. frontmoba i low moba. Jeżeli pływacie z jakimś kumplem i jesteście na podobnym poziomie, to naprawdę polecam sobie w to zagrać. Zabawa jest super, a można się do tego jeszcze dużo nauczyć.Wigilię urządziliśmy w naszym mieszkaniu i przyszła do nas cała polska ekipa z RSZ. Mieliśmy różne pseudo świąteczne potrawy i opłatek. Kulturalna i tradycyjna wieczerza skończyła się konkretną imprezą w klubie w Marinie. Następnego dnia totalnie nic nie wiało i taka pogoda utrzymała się przez całe pięć dni. Strasznie się wtedy wynudziliśmy, ale na ostatnie dwa dni wiatr znowu do nas wrócił. Pływałem nawet wtedy na siódemce i strasznie mi było szkoda, bo wiało tylko o kilka węzłów za mało na megaloopy. To są w sumie najfajniejsze tricki i bardzo się za nimi stęskniłem. Ale za to Dakti odkrył zarąbistą lagunkę z kilometr od bazy. Świetnie mi się tam pływało- byłem wtedy jakiś taki szczęśliwy, że zupełnie się odłączyłem od wszystkiego dokoła i pływałem trochę jak w amoku. Dobre było np. combo z BJ3 do tabletopa unhooked (hehe) albo próba crail grab doublesbend do blinda. Ostatnie dwa dni strasznie padało i tonęliśmy w błocie. Rozpłynęły się ulice i zalało bazę. Pakowanie nie było przyjemne, bo latawce były całe w tym syfie, a reszta rzeczy trochę mokra. Nie wiem co dalej, może jakiś wyjazd na ferie się jeszcze uda.
tekst: Marek "Junior" Rowiński (SU-2)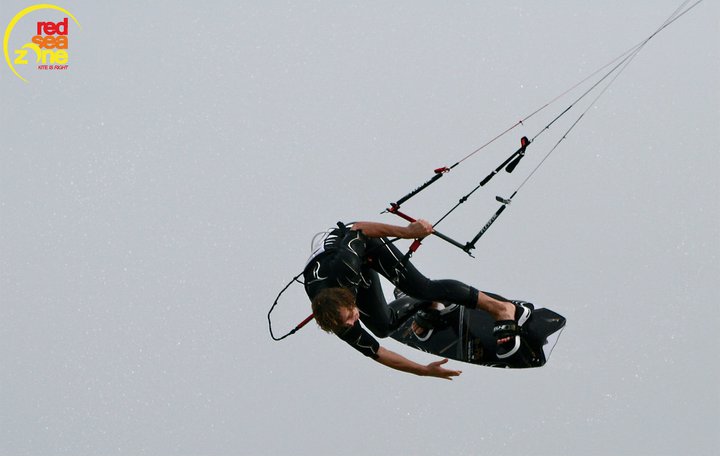 18.12.2010 Razem z prosem Tomaszem Dakterą wyruszyliśmy do Egiptu. Po licznych uśmiechach i zagadywaniu do Pań przy odprawie udało się nam nie zapłacić za nadbagaż !:)
W momencie dotarcia do Egiptu , Faraon przywitał nas mocnym wiatrem. Około 25-30 węzłów. Po zameldowaniu się w najbardziej klimatycznej bazie – RedSeaZone, otrzymaliśmy informację, że prognoza z dnia na dzień ma stosunkowo siadać. W związku z tym nie oszczędzając sił pływaliśmy ile się da i jak dużo się da !! Dzień później dokończył do nas nasz fotograf Oliver Marciniak z NonAim productions, a dzień po nim przyjechało kolejne PROsiątko – Marek Junior Ro Ro Rowiński.
Moim celem na wyjazd była budowa slidera. Najbardziej przeraziła mnie egipska "castorama" , która była położona z jednej w najgorszych dzielnic Hurghady. Naprawdę hardcore. Wracając do pływania. Chłopaki jak zwykle pokazywali klase – Dakti mega Kgb, Mareczek – Kozackie Frontmoby i piekna stylóweczka !
Po zbudowaniu slidera, którego nazwaliśmy Konrad Wallenrod – tom 1 ( nie było wystarczająco dużo pleksy,aby powstał tom 2. ) Chłopaki Katowali freestyle, a ja ciskałem slajdy i slajdziki.
Kolejnym ważnym punktem jest sprzęt, na którym pływałem. Dzieki pomocy Księcia (Łukasz Ceran), który aktualnie pracuje w Wainman Hawaii uzyskałem latawce i deske na darmowe testy. Decha Joke- jest najlepsza na slidery i jazde w butach. Nie będę się dużo rozpisywał gdyż po prostu trzeba na niej popływać. Latawce – testowałem 9m2 smoke i 12m2 boss. Oba są naprawdę super do Freestylu jak i Freeride'u. Jednakże latawce najbardziej nadają się na wave. I uwaga, uwaga. Obalam mit, że latawce Wainmana nie robią kiteloopów. Przed ostatniego dnia ( przed ulewnym deszczem -.- ) przyszedl wiatr – jakieś 25 węzłow. 9M2 ładnie zawija :)
Dobrą nowością jest nowa miejscówa w Egipcie. Marek i Dakti podczas jednego ze swoich romantycznych downwindów odkryli mega dużaa lagune zlokalizowaną – ciężko powiedzieć gdzie :p
Jak zwykle na wyjezdzie pokazalismy klase i przyjaźn jaka między nami panuje. Wszystko widać na zdjeciach i meggaaa pozdrooo dla ekipy RedSeaZone
tekst: Miłosz Laska
zdjecia : Oliver Marciniak i Office manager RSZ – Anna