Pomyślałem sobie, że podzielę się moją wiedzą na temat kiteroomingu jako, że już nic nowego pewnie nie wymyślę, a ćwiczyć się też już odechciewa. Oto prawie 5 lat doświadczenia zabawy na tym ustrojstwie.
I. Budowa kiteroomingu
Zawsze uważałem, że najprostsze rozwiązania są najlepsze. W przypadku kiteroomingu jest to zasada, z którą nie można się kłócić. Jednym z największych problemów jest według mnie zrobienie kiteroomingu, który nie psuje się i każdy jego element jest wytrzymały i stabilny (nie trzeba go co chwilę poprawiać). To czy jest wygodny, praktyczny i dobrze się na nim ćwiczy schodzi na drugi plan jeżeli co chwilę zrywa nam się linka i lądujemy na przysłowiowej "mordzie" (co zdarzyło mi się nie raz przy okazji wprowadzenia jakiegoś nowego węzełka lub linki).
Najpopularniejszy kiterooming wygląda mniej więcej tak:
Jednak ja chciałbym zaproponować wam według mnie lepszy system. Mam tak zbudowany kiterooming w domu i sprawdza się on naprawdę świetnie. Całość wygląda tak: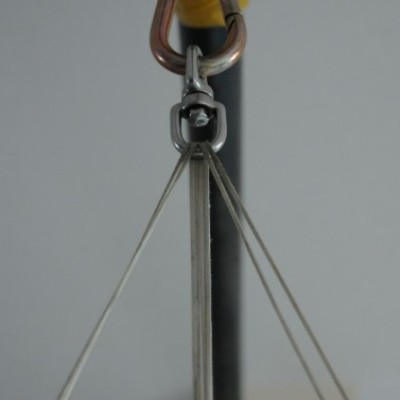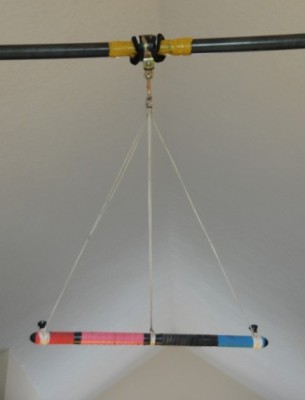 Zalety takiego systemu:
• żadnych przecierających się linek, 100% bezpieczeństwa
• bloczek obrotowy to potęgą, nie trzeba baru odkręcać po paru skokach
• wszystko działa jak szwajcarski zegarek, nie skrzypi i jest bardzo wygodne
• możliwość dopięcia chickenloopa i zrobienie "ruchomego baru"
Bar jest przywiązany na jednej lince, zawieszonej na obrotowym bloczku, który jest podpięty do obręczy. Wykorzystałem możliwie jak najmniej elementów i wszystko jest zrobione z myślą jak najbardziej ekstremalnego minimalizmu. Sam bar to prawdziwy klasyk- skrócony do długości 66cm naish z 2002 roku. Jest dosyć gruby i całkiem okrągły bez żadnych wgłębień. Lubię bardziej taki kształt, bo często przy nieudanych przełożeniach zamiast szarpać całym ciałem wyślizguje mi się po prostu z ręki i nic złego się nie dzieje. Żeby wygodniej się go trzymało mam przy środku baru założone dwie owijki tenisowe (koniecznie nawijać je od zewnątrz do środka baru- w przeciwnym będą się łatwiej zdzierały). U mnie ta czarna owijka jest właśnie źle założona i trochę się już odwija. Na szczęście jest bardzo cienka, więc nie ma z tym większego problemu. Za to ostatnio wymieniłem tą czerwoną owijkę, bo zaczynała mi już schodzić (była też tak źle założona). Linka której użyłem to stara linka kajtowa (pewnie 2002/2003). Jest grubsza i bardziej miękka od dzisiejszych linek, a przy tym wystarczająco mocna. Na pewno nie użyłbym kajtowej linki z nowych barów- są za ostre (pewnie każde złe przełożenie kończyło by się pocięciem). Wybrałem taką właśnie linkę, ponieważ jest bardzo lekka dzięki czemu nie generuje zbędnych oporów i mogę łatwiej kręcić sobie barem w powietrzu (barspin). Może się to wydawać dziwne, ale jest to naprawdę duża różnica. Mój kiterooming zrobiony jest na podwójnej lince (raz złożonej). Druga charakterystyczna rzecz w moim projekcie to mocowanie do belki samego baru. Nie mam żadnych linek, a wszystko wisi na metalowej obręczy zaciśniętej na jakimś starym padzie. Oczywiście takie wykonanie jest możliwe tylko jeśli zawieszacie na rurce podobnej do mojej. Taką obręcz można założyć tylko na coś stosunkowo cienkiego, więc odpadają wszelkie konstrukcje z belek.
Końce linki są przywiązane do końcówek baru. Przekładamy środek linki przez bloczek obrotowy i później przez środek baru. Przez oczko w lince przeplatamy kilka razy drugą linkę i zawiązujemy ją mocno dookoła baru. Lubię takie mocowanie baru, bo można przechwytywać z dużą dokładnością. Czasami miałem takie okresy, że każdy pass musiał być przechwycony z linką miedzy określonymi palcami. To taka kolejna zaleta dla perfekcjonistów. Niby można oznaczyć środek jakimś kolorem, ale nie jest takie wygodne (trudniej wtedy to ocenić- jak zasłania się ręką środek baru).
Dodatkowo możemy dołączyć łatwo do baru chickenloopa i zrobić opcję z ruchomym barem. Miałem to tak kiedyś przez tatę zrobione, ale chicken przeszkadzał mi w przekładaniu.
Możemy wtedy bawić się w old-school z trapezem. No i do tego można "odpuszczać bar"- jakby wam tam za mocno szkwaliło na chacie.

II. Ćwiczenia na kiteroomingu
A więc kiterooming to taka siłownia kitesurfera. Sprowadza się to do wielu uproszczeń i pewnej profanacji kite'a, więc napiszę o paru rzeczach których nie lubię:
• odróżniania tricków podobnych czyli kgb i slima albo front moba i back moba- na kiterooming to jedno i to samo więc zapomnijcie o tych nazwach
• robienia np. "kiteloop" 313- tu nie ma żadnych kiteloopów. Tricki dzielą się na te "z bujania" i te "z miejsca"
• graby- są jeszcze bardziej dyskusyjne niż na wodzie, więc lepiej ich nie robić w ogóle
• kiterooming to tylko śmieszna zabawa- prawdziwy kite zaczyna się dopiero na wodzie

Na kiteroomingu fajnie jest sobie poćwiczyć najlepiej przed wyjazdem. Chodzi o przypomnienie ciału tych wszystkich nietypowych ruchów i wzmocnieniu się przed pływaniem. Zdecydowanie odradzam ćwiczyć na wyjeździe- to bez sensu. Lepiej wykorzystać tą energię na dodatkową sesję lub lepszy odpoczynek.
Niektórzy traktują trening na sucho jako serię wyczerpujących ćwiczeń, którą trzeba codziennie odwalić, żeby utrzymać formę. Dla mnie kiterooming był bardziej taką zabawą w szukanie nowych odczuć i wprowadzaniu swojego ciała w nowe ruchy poszerzając sobie tym samym świadomość przestrzeni. Obie te perspektywy łączy fakt, że mozolne powtarzanie tych wszystkich hapeków wprowadza jakiś tam nawyk i łatwiej jest nam się później odnaleźć na wodzie. Najcenniejszym darem kiteroomingu jest to, że uczymy się co zrobić z ciałem, żeby uzyskać określony efekt. Poprzez wiele godzin ćwiczeń zaczynamy rozumieć np. co daje wcześniejsze puszczenie ręki albo kopnięcie nogą podczas przekładania.
Każdy ma pewnie swoje własne metody ale z mojego punktu widzenia mogę opisać parę etapów w doskonaleniu swoich umiejętności kiteroomingowego koksa.

1. zwykłe hp z miejsca
Uczymy się podstawowych hapeków przez obie ręce (switch stance), dodajemy różne rotacje, czasami dziwne graby. Ogólnie ten etap kończy się na pierwszym dołapaniu (dołożeniu drugiej ręki na bar po przełożeniu) jakiegoś hapeka. Tricki są raczej statyczne, więc można tu popracować nad siłą. Fajnym ćwiczeniem są wszelkie switch hand graby (jest jeden na filmie do Slima dodany- raczej najłatwiejszy ze wszystkich).

2. dołapywanie hp z miejsca
Bawimy się cały czas w dołapywanie hapeków. Ogólnie według mnie jest to nudne. Mimo, że nie jest to na pewno kwestia tylko siły (bo technika przy dołapywaniu liczy się bardziej niż siła) to kojarzy mi się z takimi koksami z siłki. Chociaż trzeba przyznać, że daje to dużo satysfakcji. Gdy udaje nam się po raz pierwszy zrobić trzy hapeki bez dotykania ziemi to naprawdę jest fajne uczucie. Według mnie najłatwiej dołapuje się moby, ponieważ bardzo szybka rotacja ułatwia dołożenie drugiej ręki na bar i wykonanie drugiego passa.

3. hapeki z bujania i nabiegania
Chodzi o wszelkie passy robione po bujaniu lub bezpośrednio z wybicia do bujania- gdy przekładamy linki kiteroomingu są pod kątem około 45 stopni. Tu w grę wchodzą głównie flat spiny, czyli handlepassy takie jak 313, blind judge + zmiany rotacji. Ja robiłem przez 2 lata tylko takie tricki i uważam, że jest to doskonałe ćwiczenie. Musimy dużo wybijać się z nóg, co je bardzo wzmacnia. Przełożenia są bardzo techniczne, bo trzeba do nich wykorzystać ten moment bezwładności gdy jesteśmy w najwyższym punkcie. W przeciwieństwie do klasycznych hapeków mamy większe możliwości w bawieniu się swoim środkiem ciężkości, wszelkimi zmianami rotacji oraz zmianami nóg (które przy klasycznych hapekach mają z 10 razy mniej wpływu na rotację). Dodatkowo możliwe są nowe tricki: osmozis, barspin (które też są świetnym ćwiczeniem). Po opanowaniu podstawowych przełożeń otwierają się przed nami niemal niekończące możliwości zmian rotacji, grabów, zmian nóg i kopnięć przyspieszających rotację. Ogólnie najtrudniejszymi trickami z tego etapu jest zrobienie kilku hapeków bez dotknięcia ziemi (znowu dołapywanie).

4. barspiny
Odkryłem tą zabawę w zeszłym sezonie. Chodzi o wszelkie obroty barem będąc w powietrzu. Oczywiście barspiny robimy tak jak hapeki z bujania, chociaż można na siłę zrobić barspina wisząc statycznie pod barem (mam nadzieję, że wiecie o co chodzi). Cała radość z barspinów bierze się z tego, że musimy na ten jeden moment puścić całkowicie bar. Można się z tego wiele nauczyć (może być to szczególnie dobry pomysł na bezbolesny wstęp do hapeków z bujania) gdyż wymaga to od nas zrozumienia tych sił odrzucających nas od baru (siła odśrodkowa, nie niemili ochroniarze z klubu). Prawdziwa zabawa zaczyna się gdy próbujemy na jak najdłużej puścić bar albo zrobić dwa barspiny w jednym skoku. Najtrudniejszymi trickami z tej grupy to chyba barspin, po którym robimy jeszcze hapeka.
all about kiterooming from MarekR on Vimeo.


III. Porady
Obecnie 90% moich ćwiczeń to barspiny. Nie chce mi się już przekładać. Poza tym dołapuję trochę z bujania i bawię się w różne zmiany rotacji. Jak kiedyś więcej ćwiczyłem to moim ulubionym trickiem było KGB z bujania. Czyli nabiegamy, robimy 180 w jedną stronę, a później zmieniamy rotację i przekładamy flata 360 w drugą stronę. Jest to super ćwiczenie, bo można naprawdę wyciągnąć z tego miliony wniosków. Przy tym KGB zmieniałem sobie często nogi, patrzyłem jak wpływa to na rotację, kopałem przed przełożeniem, żeby uzyskać więcej luzu na linkach- ten trick pozwala na wiele eksperymentów (na filmie widać właśnie jedno takie z dwoma kopnięciami). Podczas hapeków z miejsca trzeba pamiętać, że wszelkie "operacje" związane z przekładaniem powinno robić się w momencie wznoszenia, a nie opadania. I nie chodzi tu o samo przekładanie, jak bardziej o zmiany rotacji i przyciągnięcia do baru, które mają umożliwić przełożenie.
Dużo techniki łapie się też przy nauce dołapywania, bo siłą się tam nic nie zdziała. W dołapywaniu chodzi o czas. Całe przełożenie powinno odbywać się z ciałem jak najbliżej baru żeby zyskać trochę czasu na opadanie (po przełożeniu) i dołożenie wtedy drugiej ręki. Musimy pozbyć się niepotrzebnych ruchów i zaangażować całe ciało. Dobrą radą jest skupienie się na tym, żeby po przełożeniu pozostać na zgiętej ręce, co bardzo ułatwia dołożenie drugiej ręki na bar. Przy wszelkim dołapywaniu z bujania trzeba przekładać z rękoma jak najbliżej ciała. Nie wiem jak to jest, ale na początku nawet jeżeli skupiałem się na trzymaniu rąk przy ciele nie byłem w stanie tego zrobić. Także myślę, że dla zaczynających dołapywanie z bujania będzie to największy problem. Bardzo ważne jest też robienie hapeków przez drugą rękę (switch stance). Nie wyobrażam sobie treningu tylko jednej strony- jest to ograniczające (a poza tym śmiesznie się wygląda z jednym bickiem skokszonym). Nietypowym trickiem jest osmozis (hp robione jedną ręką- przełapujemy bar w tą samą rękę z której przekładamy). Trzeba puścić wtedy bar na chwilę a trick robi się raczej z bujania, bo można wykorzystać do tego moment bezwładności. Jeżeli ktoś próbuje coś takiego zrobić to najlepszą radą jest zaczęcie rotacji jeszcze przed wybiciem. Ogólnie wybicie przy hapekach z bujania to kluczowa sprawa. Ja wypracowałem sobie je tak, że mogę bardzo przyspieszyć rotację, nie tracąc przy tym równowagi. Wybijam się zawsze z wewnętrznej nogi (w stosunku do tego jak się kręcimy). Czyli jeżeli nabiegamy do flata przez prawą rękę (rotacja counterclockwise) to lewa noga jest wewnętrzna. Jeżeli nabiegamy do KGB przez prawą rękę (wybicie clockwise, przełożenie counter cw), to prawa noga jest wtedy wewnętrzna. Więc przed samym wybiciem zataczam zewnętrzną nogą dosyć duży łuk i w momencie oderwania się od ziemi zginam zewnętrzną nogę i przybliżam do siebie blisko kolano, co daje naprawdę bardzo szybki spin i pozwala na nabranie dodatkowej wysokości. Wewnętrzna noga zostaje raczej luźna, chociaż wszystko zależy od tricku. W przypadku osmozis staram się jak najdłużej zostać na ziemi (także zanim się wybiję mam już dużą część rotacji za sobą). Pozwala to na zostanie blisko baru w momencie, gdy trzeba go puścić. Ogólnie najlepszą radą jeżeli chodzi o wybicie jest zrobienie sobie takiego testu:
jeżeli jesteś w stanie wybić się, nic nie robić w powietrzu, wylądować, tak jakby przebiec i wybić się identycznie po drugiej stronie kiteroomingu i powtórzyć taki cykl parę razy (płynnie) to znaczy, że dobrze się wybijasz.
Pisałem wcześniej o tym, że nie lubię kiedy ktoś rozróżnia np. Slima od KGB. Odnosi się to szczególnie do statycznych handle passów. Jednak w przypadku hp z bujania można oba tricki trochę bardziej odróżnić. Dzięki temu, że istnieje coś takiego jak NIS (non inverted slim) sam Slim uważany jest za trick przekładany do góry nogami. Natomiast KGB (a szczególnie back to blind air pass) może być przekładany zupełnie jak flat. I jest to wtedy taki backroll blind judge. Dlatego dałem takie nazewnictwo do tricków na filmie- to raczej najrozsądniejsze rozwiązanie.


IV. Podsumowanie
Trening na kiteroomingu na pewno ma wiele zalet i pomaga w prawdziwym pływaniu. Trzeba jednak pamiętać jak dobrze z tego korzystać, żeby miało to w ogóle jakiś sens. Nie ma dla mnie żadnego argumentu za ćwiczeniem na kiteroomingu będąc na wyjeździe. Nie można też ćwiczyć za dużo. Łatwo jest przesadzić i znudzić się tym do reszty. Według mnie optymalne są rzadkie ćwiczenia i tylko przed jakimś grubszym pływaniem (po długiej przerwie lub dłuższy wyjazd) powinno się posiedzieć przy barze trochę dłużej (1h dziennie przez 2 tygodnie). Bardzo nie lubię jak ktoś uczy się tricków przekładając sobie kiterooming na wodę. Skuteczność tej metody można najlepiej porównać do działania tanich translatorów- niby wszystko dobrze przetłumaczą, ale i tak pęka się ze śmiechu. Jestem zawsze w stanie rozróżnić czy ktoś uprawia taki "kiterooming na wodzie". Charakteryzuje się to tym, że każdego hapeka staramy się zrobić w ten sam sposób: "180 w jedną potem przełożenie w drugą" albo "180, przełożenie i kolejne 360". Każdy pass wygląda wtedy tak samo i nikomu się to nie podoba. W ogóle nie zwraca się wtedy uwagi na nogi, co jest kluczowym błędem. Zazwyczaj taka osoba totalnie nie panuje nad latawcem, bo przecież na kiteroomingu nic takiego robić nie trzeba.
Kiterooming powinno się traktować z pewnym dystansem. Mimo, że jest to trochę takie tyranie w kółko tego samego trzeba dużo myśleć i rozumieć co się robi. Tak naprawdę wszystko jest w głowie.

Jeżeli macie jakieś pytania to strzelajcie. Może będę wiedział co i jak.
POZDRO!
Marek Jr Rowiński